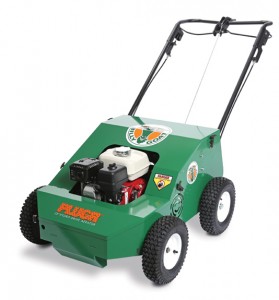 Do you need something in between a push aerator and a full size commercial unit? The PL2500SPH PLUGR has a built in hydrostatic drive and a unique cam-based tine system that gives it serious power without requiring serious effort to use.
Power
The PL2500SPH is powered by a 196 cc Honda engine. This motor is connected to a hydrostatic transmission that can move the aerator at speeds up to 2.62 mph (3.846 feet per second)
Aerating Performance
Look under the hood of the PL2500SPH, and you'll see the engine drives a reciprocating cam that has 8 tines mounted to it. Instead of depending just on the weight of the aerator like a roller mechanism does, this cam system uses engine power to push each tine into the ground and pull it out. This cam is 25 inches wide, making it ideal for small to medium sized lawns.
The cores are spaced 3.63 x 6 inches, but thanks to the hydrostatic drive, that density can be increased: just move the speed control to medium or low and the aerator will move slower, but the cam will keep rotating at the same speed, cutting more cores per foot. At maximum speed, this aerator can break down up to 35,000 square feet of top soil per hour.
This aerator uses machined and heat treated thin wall tines that punch through the soil without mashing it or disrupting the surface for a clean finish. The PL2500SPH comes with 5/8 inch hollow tines, and Billy Goat makes 3/8 inch hollow and both 3/8 and 7/8 inch solid tines that will fit on this aerator. The PLUGR can also use Zoysia Transfer tines that can be used to remove grass for transplanting into bald areas of turf.
Usability
Despite splitting engine power between the drive system and tines, the controls are fairly simple: there's a lever to lower or raise the tines, a bail to engage the tines, and a bail to engage the drive system. Speed is controlled by moving a lever on the base of the unit, so when you stop, you'll get back to the settings you had before as soon as you engage the bails. Four pneumatic tires make the PL2500SPH easy to maneuver and easier to roll up trailer ramps than a three-wheeled aerator.
On the back of the unit, a quick release receiver hitch allows a chariot to be hooked to the aerator, turning it from a walk-behind to a ride-behind.
Remove the one piece cover, and the entire unit is exposed for service. There's just one belt running between the engine, hydrostatic drive and tine camshaft, and the tines screw on for easy exchange or replacement.
Where to Get Parts for Your Billy Goat PL2500SPH PLUGR Aerator
www.billygoatparts.com is a certified dealer for both Billy Goat and Honda small engines, making them your one stop for anything you may need for your aerator from tines to spark plugs. Our search engine has factory parts diagrams and descriptions built in, so you can be sure you're ordering exactly what you need. We also have parts manuals for older models like the PL2500SPH that you can print up to reference next to your equipment. Best of all, we can ship your order to any address in the U.S. and Canada.