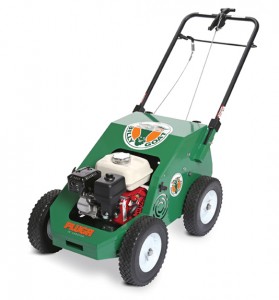 Billy Goat makes top quality commercial lawn care implements, but like most commercial equipment, these tend to be far too big to be practical for residential users. However, their PL1800 PLUGR is within reach of homeowners, built for commercial duty but sized for small properties and designed to be easy to operate, making it perfect for personal use or as a rental.
Power and Performance
The PL1800 is powered by a 205 cc Briggs & Stratton engine, while the PL1800H uses a 118 cc engine from Honda.
Instead of using a chain-driven roller, the engine uses a belt to drive a cam that looks a lot like a crankshaft out of an automobile engine. Attached to this shaft are four rods with tines on the ends that slide down as the cam rotates. Since the engine is being used to actively push the tines into the ground, this aerator doesn't need additional weights or a water container to get the tines to penetrate. This mechanism can drive these tines up to 2.75 inches into the soil, and the tine arrangement spaces the cores in a 3.63 x 6 inch pattern for optimum coverage.
Usability
If you can use a walk-behind mower, you should have no trouble using this aerator. There are just two controls: a lever to raise and lower the tines and a bail to engage the tines.
Since it uses cam-driven tines instead of a roller, there are four wheels at the corners of the aerator instead of two roller-mounted rear wheels and a center front wheel. This makes the PL1800 easier to maneuver and a lot less awkward to roll up the ramps of a trailer. When transporting or storing, the handle folds down to make the unit more compact. Servicing the PL1800 is easy: once the one-piece cover is removed, everything is accessible from the motor to the tines.
Billy Goat offers several tine options for this machine to best fit your local conditions including 3/8 and 7/8 inch solid tines, 3/8 and 5/8 inch hollow tines, and even Zoysia transfer tines for patching bald turf. From the factory, this machine uses the 5/8 hollow tines, but the screw-in design makes it easy to swap them out with a different set.
Where to Get Parts for your Billy Goat PL1800 Series Aerator
This aerator may be an older model, but that doesn't mean parts are getting hard to find. www.billygoatparts.com is a certified dealer for Billy Goat and the companies who built the engines used in their equipment including Honda and Briggs & Stratton, making them your source for everything you need for your PL1800. Our search system can show you factory parts diagrams and descriptions so you can be sure you're ordering exactly what you need. We also have parts manuals for older models including the PL1800 available online, so you can reference the diagram and part number to find the pieces you're looking for. We can ship parts big and small across the U.S. and to Canada.