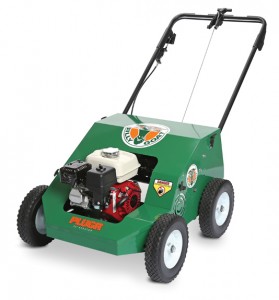 Do you need to cover a lot of ground with an aerator, but don't want to step up to a towable unit? The PL2500H PLUGR is designed to make quick work out of breaking up soil with a 25 inch wide hole pattern and a transmission built for high speed.
Power and Speed
The PL2500H is powered by a 163cc Honda engine that drives both the tines and the self propulsion system. The transmission can be set to one of three speeds ranging from 2.5-3 mph. With its 25 inch wide deck, this model can aerate up to 42,550 square feet of turf per hour.
Cutting Performance
Plugs are cut into the soil using 8 tines mounted to a reciprocating cam instead of the standard drum arrangement. Core spacing for this model is 3.63 x 6 inches, but since the cam is driven directly by the engine, the aerator can be shifted into a lower gear to let the tines penetrate more frequently for a given distance to provide a denser aeration pattern. Since the tines are actively being pushed into the ground by the engine, there's no need for additional weights. The travel on this cam allows the tines to penetrate up to 2.75 inches into the soil.
Billy Goat offers several options for tines to best fit your needs, whether you want to cut large or small cores for the best water and air contact, penetrate the soil without leaving cores for faster soil preparation, or cut out grass for transplant.
Easy Service and Operation
Using the PL2500H is easy: just start the engine as you would on a walk-behind mower, set the speed using the transmission lever on the rear of the deck, and move the lever on the handle to lower the tines. The tines will engage as soon as you close the bail, and if you need to move away for any reason, everything will still be set up so you can start back at the same pace.
Servicing is easy thanks to a single piece cover that can be removed without tools. Tines are screwed on for easy replacement, and Billy Goat offers a service kit with everything you need to get your aerator ready for the next season. The drive system uses belts instead of chains, eliminating the need for lubrication and simplifying replacement.
Need to transport the PL2500H? Thanks to its cam-based design, it has four wheels instead of the three found on drum-based aerators, so it's easy to roll up ramps and into trailers.
Where to get Parts for Your Billy Goat PL2500H PLUGR Aerator
Need a different set of tines, a service kit, or some engine parts? www.billygoatparts.com is a certified dealer for Billy Goat and Honda small engines, so we have everything to keep your aerator up and running. Ordering parts from us is easy because our site has built-in factory parts diagrams and descriptions to help you identify the part you need. We even have parts manuals available for older models like th PL2500H online. Live in Canada? We can ship to you, too.