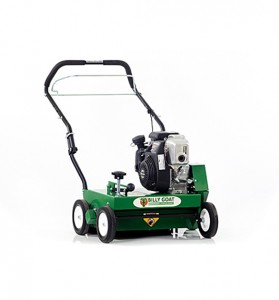 Removing excessive thatch can do a lot to improve your lawn, but doing it by hand is backbreaking and time-consuming. That's why Billy Goat makes the CR550HC compact power rake. It may not have all the features of their commercial models, but its small size makes it a perfect alternative to manual raking. This makes it a great choice for homeowners and rental businesses alike.
Cutting Power
The CR550HC comes from the factory with a flail reel. As the reel spins, each free-swinging flail drags against the ground, pulling up thatch without damaging the grass or soil surface. The flail shaft rides on a pair of cast iron pillow block bearings with built-in grease zerks. These will last through years of use, and they are easy to replace once they finally wear out. A bail on the operator handle controls the flail clutch, making it easy to disengage when making turns.
Using the front-mounted knob, the blades can be set to a depth between ½ and ¾ inches. While competing rakes have incremental height settings, this rake allows infinite adjustment. This spreads wear across the flails instead of concentrating it at spots, increases flail life. A lever next to this knob lifts and lowers the blade assembly. This lets you lift the reel up to avoid scraping against the pavement, then drop back down to your original working height.
The optional vertislicing reel has fixed blades that cut thin trenches into soil. This opens up the surface for seeding. Both vertislicing blades and flails can be replaced individually, so broken sections can be fixed without rebuilding the entire reel. Users can expect to cover 13,200 square feet, or about 1/3 of an acre, per hour pushing the rake at 1.5 MPH.
Engine
The CR550 is powered by a Honda GC160. While it may not be as ubiquitous in commercial equipment as the GX series, it is a popular option for powering walk-behind mowers. Output is 5 HP. While classified as a residential engine, the GC-Series is still designed and built with Honda's usual attention to usability and reliability.
The overhead cam head uses a belt drive designed to last the life of the engine. This belt picks up oil and splashes it onto the valvetrain, keeping everything lubricated without needing a pump. This oiling system, combined with the rake's wide base, makes it possible to operate on slopes as steep as 20 degrees. This makes this rake a great choice for clearing thatch from hilly areas. The GC-Series is also the lightest engine of its type on the market, making the rake easier to roll.
Operator Comfort and Convenience
The base is constructed from a single piece of sheet steel. This works with the padded handle to dampen vibrations before they reach the operator. A pair of steel loops keep the folding handle in place during use. When you are ready to store this machine, just slide the loops up to fold down the handle.
The engine is mounted in a way that keeps it fully exposed, making it easy to work on. It sends power to the reel via a drive belt, which is accessible by removing two small covers on the side of the machine.
Warranty
Like most of their equipment, Billy Goat guarantees the CR550 for one year, whether it's used by homeowners, commercial operators or rental businesses. Honda guarantees the engine for two years of residential use or three months of commercial or rental use.
Get the Parts You Need for Your Billy Goat
Billy Goat Parts has the parts for every model Billy Goat makes from the CR550 to the biggest truck loaders and debris blowers. Need engine parts? We carry those, too. Our site has sections for common replacement parts, while our search engine can show you part listings and diagrams specific to your model. Visit us at www.billygoatparts.com. We can ship your order to any address in the U.S. or Canada.