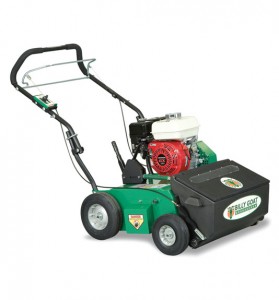 Are you looking for a way to get better results when overseeding? Would you like something that can effectively remove thatch and seed your lawn? Billy Goat's OS500 Series push overseeders are exactly what you need. Easy drop rate regulation and a high-performance slicing reel deliver the right amount of seed directly to the soil. Switch out the slicing reel with a tine reel, and you can also pull up tough thatch without damaging sprinklers or throwing rocks.
Engine
Billy Goat makes two versions of the OS500. The only difference between these models is their engines.
The OS552 comes with a Vanguard 205cc engine. Its large-displacement gives it plenty of torque to slice through packed down soil. While it may be small, it packs features normally found on V-Twin engines, including a triple-sealed air filter and an automatic fuel cutoff. Together, they keep the inside of the engine clean and prevents oil dilution during transport.
The OS552H uses Honda's GX170. While it may not have the brute force of the Vanguard, there's a reason this engine is a staple, professional, piece of equipment. A low noise, low vibration design combined with Honda's trademark reliability make it a great choice for commercial use.
Seeding
The front-mounted polycarbonate box holds up to 25 lbs. of seeds. That's enough to overseed 1/8 to ¼ of an acre depending on the drop rate. Instructions are printed inside the lid, making it easy to set the right drop rate for your seed. Seed dropping and slicing are controlled by a bail, so you can turn both functions on and off while pushing the overseeder without stopping the engine.
Slicing and Dethatching
The OS500 comes from the factory with a 20-inch slicing reel for overseeding. The blades on this reel cut through surface soil, improving seed to soil contact. The blades have a height adjustment that ranges from 0.125 to 0.5 inches. Infinite adjustment lets you get the perfect height while compensating for tine wear.
Billy Goat offers flail and spring tines to use this overseeder as a power rake. Flail tines offer maximum performance removing thatch, while spring tines glide safely over sprinkler heads and other obstacles embedded in turf. Flails are double-sided, so you can flip them around once one face wears down. Using either set of tines lets you remove thick thatch, or remove a thin thatch layer to improve soil exposure when overseeding.
Performance
The size and weight of the OS500 are comparable to a large walk-behind mower. Both the OS552 and OS552H weigh 178 lbs and measure 26.5 inches wide and 54 inches long. The steel wheels ride on roller bearings, reducing rolling friction to make it easier to push. Users can expect to cover 13,200 square feet, about 1/3 of an acre, per hour at a regular walking speed.
The OS500 comes with a folding handle held in place by a pair of metal loops. This makes folding and unfolding faster than handles that use thumb screws, and you don't have to make guesses about the tightness of the handle. Once the loops seat, the overseeder is ready to use.
Warranty
Billy Goat guarantees the OS500 for one year of commercial use. Both Honda and Vanguard guarantee their engines for 3 years of commercial use.
Get Everything You Need for Your Power Rake Straight From Your Browser
Billy Goat Parts is a certified dealer for Billy Goat, Briggs & Stratton Vanguard and Honda Engines. This lets us offer a full selection of OEM parts and accessories for your equipment. We make shopping easy with sections for commonly ordered parts, including air filters, belts, and hardware. Need something to make repairs? Our search engine can show you listings based on your model and serial number. It also has factory parts descriptions and diagrams built-in, so you can see exactly what you're ordering. We can ship what you need to any address in the United States or Canada. To order, visit us at www.billgoatparts.com.