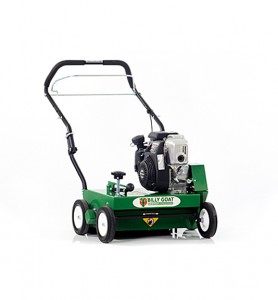 Billy Goat typically offers both domestic and international versions of its power equipment models, at least in terms of residential landscaping equipment. The company's compact power rake is an example of its commitment to international buyers, with a very small footprint and a highly efficient engine that makes this a natural fit for homeowners outside the United States. The compact power rake features a far smaller overall footprint than Billy Goat's traditional dethatcher, and is easier to use and transport as a result. Despite its smaller size, this is still an effective piece of equipment for eliminating thatch, restoring the lawn's integrity, and ensuring healthy grass throughout each month of the year.
Why Choose the Compact Power Rake? A Look at its Features
Unlike the traditional Billy Goat power rake, this compact model does not feature the same swinging blade design that would give it self-propelled features during use. Even so, most operators will be comfortable giving up that luxury due to the power rake's lighter weight and smaller size. In designing this more compact take on the power rake, which produces results in 20-inch passes over accumulated thatch, Billy Goat focused on something else near and dear to most operators: long-term comfort.
The compact power rake has fewer internal parts than its larger counterparts, and that means that it simply produces less movement and vibration during active use. Combined with the comfortable, vibration-reducing handle that this model features, it means that operators will simply enjoy a reduced likelihood of injury or fatigue even fi thy use the power rake for hours at a time. This innovative design also makes maintenance far easier than it would be with a more complex, larger model, and enhances durability since there are less moving parts to maintain throughout the year.
In addition to its smaller number of moving parts and its embrace of single-piece construction, this compact power rake features a fully adjustable and foldable handle that makes storage and use easier than ever. The handle can be contracted and folded flush with the equipment for easier storage, or it can be adjusted forward, backward, and upward, to accommodate various terrains and operators who might vary in height. This further reduces fatigue and enhances safety, and also makes this power rake easily able to handle thatch on more challenging grades and terrains.
As with virtually all Billy Goat power rakes, overseeders, and other types of renovation equipment, the compact power rake can be paired with OEM accessories that make it even more useful in certain outdoor environments. Thanks to its simplistic design, attaching new slicing reels or other accessories can be done very quickly, and with minimal tools required during assembly and installation.
Get the Job Done Quickly with Impressive Specs for a Compact Model
Billy Goat's compact power rake features a powerful, highly compact engine, which produces up to 5 horsepower during routine operation. Though that might sound like a small number, it's important to keep in mind that this power rake is very lightweight overall, and its narrower width simply requires less horsepower to work through particularly thick thatch growth. The Honda GC engine is highly efficient, and will make the most of a full fuel tank even during extended use.
At 129 pounds, this power rake is easily one of the lightest on the market. With a rake depth that can be adjusted from 0.5 inches to 0.75 inches, it's also one of the most capable at removing deeper, thicker thatch around the home. The compact power rake measures 38.5 inches long and 28.5 inches wide, with a maximum height of 43.5 inches. It's capable of clearing larger outdoor areas at an impressive rat of 13,200 square feet per hour. It does this by traveling forward at a speed of up to 1.5 miles per hour.
Extend and Enhance with Billy Goat's Power Rake Accessories
Currently, Bily Goat's sole available accessory for this compact model is its vertislicing reel, which makes it easier to handle thicker grasses and overgrowth around the home. The vertislicing reel can easily thin out taller grasses, prepare the lawn for overseeding work, or create a more favorable drainage scenario that will encourage timely evaporation, guard against fungal growth, and discourage the growth of thatch itself.
Find Compact Power Rake OEM Parts at BillyGoatParts.com
Billy Goat's compact power rake is a great addition to the tool shed for international buyers, with its durable materials and exceedingly small footprint. Even so, this compact model requires regular maintenance and parts replacements just like its larger counterparts. That's where BillyGoatParts.com comes in. Thanks to an online search tool and an extensive array of OEM replacements for Billy Goat equipment models, homeowners will find it easy to narrow down available parts and find on that fits their needs whenever maintenance is required.