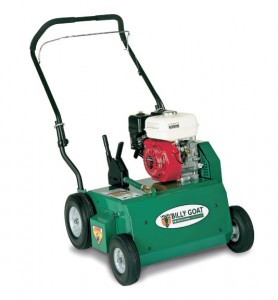 Snow might be a welcome sight at the beginning of winter, but it offers at least one downside for grass around the home: The weight of the frozen precipitation can cause compaction and thatch, endangering the integrity of the grass and encouraging things like discoloration, fungal or moss growth, and bald spots. Thatch is also common throughout the year during times of overgrowth or even excessive rainfall, and it's a problem that must be solved quickly if homeowners wish to preserve their lawn's aesthetic perfection. The good news is that dethatchers, like the Billy Goat Power Rake, are designed to remove thatch from the lawn and create a more fertile, sustainable growing area that will gain necessary sunlight, nutrients, and hydration. Consider Billy Goat's power rake equipment as the best way to undo nature's damage to the lawn.
Great Features and Many Benefits to Owning a Billy Goat Power Rake
One of the primary benefits of Billy Goat's Power Rake is that it makes dethatching a relative breeze. Without the assistance of power equipment, removing thatch from the lawn can prove exhausting, time-consuming, and even damaging to the turf if the wrong tools are used or if something goes wrong during removal. The power rake offers superior precision and control, making it far easier to quickly and safely remove thatch without harming the grass in the process.
Removal of thatch is aided by the power rake's "down-sweep" rake motion, which protects the turf while breaking up thatch. It also allows the equipment to be effectively self-propelled, reducing the amount of work required to get the job done and eliminating a significant source of operator fatigue in the process. The power rake also features a unique handle design that is infinitely and easily adjustable, with padded materials that are designed to absorb engine vibrations and create a far more comfortable work scenario for the typical homeowner. Combined, these features simply make the power rake easier to use and more comfortable for extended tasks around the home.
Like the handle, the power rake's actual depth and deck position can be infinitely adjusted to accommodate various types of thatch, different terrain around the home, or differing severity of accumulated thatch in trouble spots. This adjustment is easy to make using included operator controls, and can be done on the fly to accommodate changing conditions as the equipment encounters them. Thanks to cast iron bearings and a unique belt setup, maintenance concerns are reduced while the actual replacement process for key parts like drive belts is actually made easier and quicker. Heavy-duty steel materials elsewhere on the power rake make this model less prone to warping, rusting, or common dents and dings, enhancing its long useful life around the home.
Specifications: The Power to Break Up Even the Densest Thatch
A power rake is only as good as the engine that lives "under the hood," and Billy Goat never disappoints in this department. The company allows power rake buyers to choose from two engines, made by either Honda or Vanguard. The Honda engine is considered the entry-level, model, with a 162cc rating and a slightly smaller overall footprint. Upgrading to the 205cc Vanguard engine offers more power for quicker, more effective thatch removal, but adds a bit of extra heft to the power rake when compared to the smaller Honda engine. Both options are great for homeowners and will effectively eliminate thatch even under challenging conditions.
The power rake is just over 45 inches long and just under 27 inches wide, giving it a compact footprint for easy storage. At 160 pounds, transit and adjustment of the equipment is roughly as easy as it would be with a larger push mower. The power rake clears up to 13,000 square feet per hour and features a 20-inch flail reel that provides smooth, consistent operation.
Make the Power Rake Even Handier with OEM Accessories
Effectively eliminating thatch often means switching to different types of blades and tines and that's where the available accessories for this model come in handy. Billy Goat offers an optional vertislicing reel, an additional spring tine reel, and a conversion kit that can turn the power rake in a capable overseeder with just a few additional parts. All told, these accessories make the Billy Goat power rake a great value and a sensible addition to any homeowner's arsenal.
BillyGoatParts.com Features Replacement Parts and New Equipment
Whether the time has come to buy a new power rake, or a regular maintenance interval is approaching and a few replacement parts are needed to get the job done, BillyGoatParts.com can help. Thanks to an online parts search tool, it's easy to find the right parts for any Billy Goat model number, engine type, or specific part number, making maintenance and repairs far easier to complete in a timely fashion. For new equipment and all the necessary parts, waste no time getting started with this intuitive lookup tool.