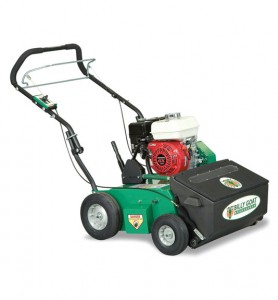 For a full, thick, and resilient lawn, few tools are more important than an overseeder. Billy Goat's OS500 overseeder is an impressive piece of equipment for residential and commercial buyers, thanks to its precise and consistent drop rate, its small footprint, and its powerful engine that gets the job done in record time. The OS500 overseeder model will help with bald spots and thin grass, and it will do so with minimal seasonal maintenance, minimal operator fatigue, and maximum benefit to the lawn's resilience throughout every season. Before picking up this compact overseeder, however, be sure to consider its overall specs and the features that enhance its utility around the home.
Under the Hood: Impressive Specs for the OS500 Overseeder
Billy Goat isn't known for pairing any of its power equipment models with an underpowered engine, and that remains the case with the company's OS500 overseeder. As should be expected, the equipment comes with a choice between two very impressive engines that build efficiency, enforce consistency in seed drop throughout the lawn, and provide maximum comfort during extended work. The company allows for a choice between a 162cc Honda engine, with an exceedingly compact footprint and a lighter weight, or an upgraded Vanguard engine capable of 205cc. The upgraded engine is a bit larger and heavier, but gives this overseeder the power to get through even the most extensive residential or commercial work.
The overseeder is bigger and better than just its engine, however. The equipment also comes with infinite depth adjustment and a 20-inch slicing reel, making it easy to produce consistent and professional seeding throughout the lawn. The equipment is capable of covering more than 13,000 square feet per hour, making it highly productive even when compared to its larger competitors. Weighing between 177 and 179 pounds based on engine selection, the OS500 is also easy to store and transport. The equipment is 54 inches long and 26.5 inches wide, giving it a small, storage-friendly footprint.
Excellent Features Make the Billy Goat OS500 a Great Choice
One of the areas that Billy Goat focused on with this overseeder model was on its adjustment and compact size. For this reason, the equipment comes with a fully adjustable handle that features no threading, no bolts, and no complicated adjustment process. This makes it easy to customize the overseeder to any operator's height and it makes it easy to adjust the equipment to work with steeper or more uneven terrain. The capacity for adjustment extends to the seeding deck, which offers the ability to be infinitely and easily adjusted during use. This is another great option for those buyers who intend to use the overseeder on uneven terrain, or on steeper grades where on-the-fly deck adjustment can enhance seeding consistency and overall speed.
Maintenance is also made easier by the OS500, thanks to a unique system that focuses on easy-to-replace drive belts and other key engine parts. Buyers will be impressed to learn that most belt, filter, and other part replacements can be conducted using just one or two tools, and they'll be even more impressed by the overseeder's quick maintenance procedures that take far less time than competing options. For seeding convenience, the 25-pound seed box is placed at the front of the equipment and utilizes Billy Goat's unique Auto Drop System. This system was specifically designed to enhance seeding performance and consistency on all types of terrain, preventing seed waste while enhancing productivity. Backed by the durability and stability of heavy-duty, wider wheels and tires, this makes professional results easy to achieve.
Accessories: Enhance and Extend the Overseeder with Add-Ons
Billy Goat's overseeder is primarily useful for handling thin grass or bald spots in the turf, but this isn't the only thing that the equipment can handle when the time has come to renovate the lawn. An optional spring tine attachment can purchased directly from Billygoatparts.com and effectively turns the overseeder into a dethatcher than can handle dense thatch anywhere in the lawn. This is particularly useful during spring lawn maintenance, and is a great way to prevent common lawn ailments like certain types of fungus, moss, or the proliferation of new bald spots after overseeding.
For New Overseeders or OEM Replacement Parts, Visit BillyGoatParts.com
The Billy Goat OS500 overseeder is a great tool for lawn renovation and maintenance throughout the year, and it's a great addition to any power equipment lineup for both residential and commercial customers. For a full line of Billy Goat overseeders and other equipment options, as well as a great collection of OEM replacement parts needed for regular maintenance, visit BillyGoatParts.com. Parts are easier to find thanks to the included lookup tool, which filters parts by model and part number, engine manufacturer, and more. Better still, the quality of an OEM part will match the dependability of the Billy Goat overseeder that requires it.