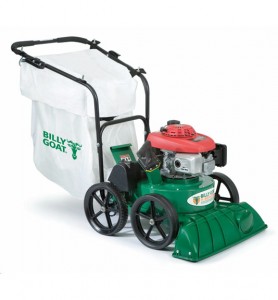 Maintaining outdoor areas is hard work, but Billy Goat's various power equipment options have long sought to make it just a bit easier for homeowners and commercial landscapers. The company's self-propelled vacuum is a key part of that strategy, with its ability to handle both natural debris and manmade waste outdoors. The vacuum's features, which range from an emphasis on operator comfort to an enhancement of impeller technologies and debris chipping, make it easy to clean up outdoor messes, make them compact enough for bagged storage, and turn their disposal into a relatively easy task no matter the time of year. For homeowners and others who consistently clean up outdoor messes, it's a good idea to consider this impressive piece of power equipment from Billy Goat.
Vacuum Features: A Natural Addition to Home and Commercial Work
One of the most important features of any outdoor vacuum is its ability to turn any accumulated debris into something a bit more compact for long-term storage. Most vacuums feature a large bag that will hold fall foliage, sticks, or even litter, but these bags would quickly become full without a bit of chipping and impeller action. Luckily, the self-propelled vacuum from Billy Goat features a 5-blade impeller with serrated edges that can slice through even the most solid debris. A built-in chipping system also makes quick work of mulching and breaking down leaves, sticks, and organic matter around the home, filling the bag a bit more slowly and making an interruption less likely during outdoor cleaning.
To reduce operator frustration, the included vacuum bag features a zipper-less design and an integrated dust skirt. These two features might not sound very important, but they're actually essential for the full containment of collected debris. The presence of a dust skirt prevents small particles from escaping back into the outdoors, while zipper-less features allow the bag to be removed without risking the spillage of contained debris. The zipper-free nature of the bag also makes it easier to maintain and more durable to use.
In addition to the thoughtfully designed mesh containment bag, Billy Goat's self-propelled vacuum comes with another feature that's a high priority for many of today's buyers: self-propelled operation. The vacuum operates at a single speed when self-propelled, though many will find that this one speed is sufficient for their needs. Notably, the vacuum is actually capable of self-propulsion in reverse as well. This makes it even easier to pass over trouble spots multiple times, all without dragging or pushing the equipment with an excessive amount of effort.
Take On Any Job with the Billy Goat Vacuum's Impressive Specs
All self-propelled vacuums sold by Billy Goat come with the same engine. Manufactured by Honda, this 187cc engine is compact and quite quiet in comparison to many other engines of the same size. Thanks to durable steel materials, the engine produces minimal vibration that should allow operators to enjoy lower levels of fatigue and a more enjoyable, long-term period of equipment operation around the home. Though the engine is a key part of this vacuum, it's not the only specification worth mentioning.
In addition to the five-blade impeller system that leverages serrated edges and a built-in chipper, the equipment comes with a large, 40-gallon storage bag that will virtually eliminate mid-task interruptions for disposal. This large bag is made from mesh materials, features no troublesome zipper, and comes with an included dust skirt for maximum debris containment even when the bag is removed from the vacuum for emptying.
Billy Goat's self-propelled vacuum is relatively lightweight, at just 141 pounds. Storage is made easy by the 27.75-inch width and the vacuum's 62-inch length, making this equipment a natural fit for most garages and tool sheds.
Accessories: A Great Way to Add Value to the Vacuum
The vacuum's bag can be swapped out for an optional, OEM mesh bag made by Billy Goat. Other great accessories include an all-weather equipment cover, a hose attachment for more effective clearing around obstacles, and an optional caster kit that makes the vacuum a bit easier to transport and maneuver. Like the vacuum itself, these OEM accessories stand up to Billy Goat's strict quality assurance standards and are assured to be fully compatible with this model.
Keep the Billy Goat Vacuum in Great Shape with OEM Parts
Though designed to be durable through all types of weather conditions and terrains, the Billy Goat self-propelled vacuum still requires regular maintenance as described in the operator's manual. Sometimes, that means replacing old parts with new ones that are fully compatible, durable, and highly efficient. That's a job that only OEM parts, made by Billy Goat, can handle. At BillyGoatParts.com, vacuum owners will find the OEM replacements they need to keep their equipment working in like-new condition for many years after the initial date of purchase. A sorting tool even makes it easy to find the right parts based on part, equipment model, and engine model numbers, as necessary.