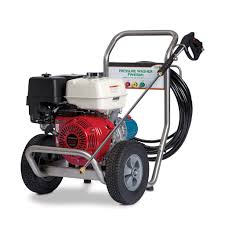 A Billy Goat pressure washer is great for cleaning pavement and vehicles, but what about buildings? While it may not be as straight forward due to the range of materials used, pressure washing makes it easy to make structure look better or get them ready for paint. Here's what you need to know to get the best results.
Preparing the Area for Pressure Washing
Steps need to be taken to protect the area from water and detergent:
– Watering nearby plants will keep them from absorbing soapy water
– Exterior lights, power outlets, and other electrical devices should be covered to prevent contact with water.
– Electrical power to the area should be shut off to prevent shorts.
For the best results, use a long-handled broom to remove cobwebs and loosen heavy dirt before spraying.
General Use
Always use biodegradable detergents when working outdoors to prevent damage from runoff. When you clean, you're also mixing in dirt, oil and a variety of other chemicals into the water from the surfaces you're cleaning. Depending on local regulations, you may also need to direct runoff away from storm drains even if your detergent is environmentally safe.
Start with a wide nozzle, spraying two feet from the surface. Slowly work your way forward until you get the pressure you want. If you're a foot away and not getting results, switch to a narrower tip. Pointing the tip at a slight angle will help push dirt away from the surface.
Bricks
The strength of brick can vary significantly from location to location, even if the brick itself seems to be the same. Bricks become more porous and brittle as they age, so extra care should be taken on older buildings.
Mortar is softer than brick, making it easier to damage. Cement blocks are usually cemented together with high strength Type S mortar, while bricks are laid with Type S or softer Type N mortar.
Sand-faced brick has a surface that can peel off, changing the brick color. It may be better to hand wash the brick or use very light water pressure, relying mostly on the cleaning power of the detergent.
Bricks and blocks are porous, letting them absorb dirt and grime that will leach out during the cleaning process. To help move things along, pre-soak the brick with a cleaning agent before spraying. The first pass will lift dirt out of the pores, leaving a dirty surface. Follow this up with a second pass using a wider spray tip to remove surface debris without leaching out more material.
Vinyl Siding
While mold growth indicates a moisture problem, even dry vinyl can accumulate mold, giving the surface a lightly dusted, green-tinged look. When cleaning vinyl siding, the goal should be to both remove the surface spores and kill off any remaining mold through chemical means.
While homemade mixtures using oxygenated bleach or vinegar are effective when hand washing, these chemicals may damage your power washer's pump. Instead, pick up a pressure washer detergent made specifically for vinyl cleaning. These formulas will include a fungicide that will help keep the mold at bay. Follow the directions on the bottle, pre-soaking the surface before blasting off the dirt and mold.
Metal
Solutions formulated to work on wood and vinyl can damage metal siding. Most general purpose pressure washer formulas are safe on metal, but be sure to check the label before use.
Overhead doors are not watertight. Clean them by hand to avoid spraying water through to the inside of the building.
Wood
Make repairs to nails and rotted board before pressure washing. If the top surface isn't sealed, water can work its way through the wood to the inside of the wall. This is another material that should be cleaned with a specialized detergent. As long as light water pressure is used, deck and fence cleaner will leave the varnish intact while lifting off oil, dirt, and sap.
Paint
In the US, lead was banned from use paint in 1978. If you're working with a building that was constructed before this ban, have the paint tested to make sure cleaning is safe.
A 15 or 25-degree nozzle will safely remove chalking paint from the surface without damaging the underlying structure. Removing this layer will both improve the look of the paint and make it ready for a coat of fresh paint.
Getting Parts for Your Billy Goat Pressure Washer
Missing a nozzle? Need to replace a hose or do some engine work before you start cleaning? Billygoatparts.com is a certified dealer for Billy Goat and their manufacturing partners including AR Pumps and Briggs & Stratton so we can ship anything you need to any address in the U.S. or Canada.