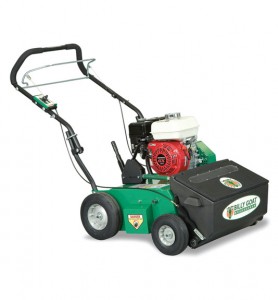 Lawn renovation is a serious concern for today's homeowners, especially at a time when so many companies are selling compact, highly affordable renovation equipment that packs a serious punch in terms of size, engine power, and operator comfort. Billy Goat is no stranger to this business, and the company sells some of the most competitive lawn renovation and rejuvenation equipment currently on the market. With a large number of competitive overseeders, and at least two power rakes for both domestic and international buyers, Billy Goat is trying its hardest to be the top-selling company for consumers who need thicker grass and less thatch in their law on a seasonal basis.
OS901 Series Hydrostatic SP Overseeder
One of the things that many homeowners love about Billy Goat equipment is that it's typically designed to do very hard work without making operators feel fatigued and downright exhausted when they've finished the task at hand. That's where the OS901 series overseeder comes in quite handy. The equipment is actually self-propelled, making it exceedingly easy to handle even when there's a particularly large task that needs to be completed. The equipment allows for self-propulsion by pairing its compact size with a hydrostatic transmission, making it an innovative way to get the job done.
Under the hood, the SP series overseeder is powered by either a Honda or Subaru engine, allows for significant adjustment of seed depth and comes with 11 fixed blades that make the equipment more effective than competing models. Its Auto Drop seed system makes sure that the right balance is achieved between conserving seeds and creating a thick, healthy lawn that will last all throughout the summer.
OS500 Series Push Overseeder
The hydrostatic SP overseeder is great for homeowners with larger outdoor areas to cover, where self-propulsion and a very large seed box will undoubtedly make the job go just a touch quicker than average. The equipment might be overkill for those homeowners with smaller lawns, however, as well as for those homeowners who don't mind putting a bit more effort into moving the equipment throughout the lawn. For those buyers, the OS500 series overseeder is an excellent alternative.
The OS500 series comes with a slightly smaller, 25-pound seed box that makes the equipment a bit lighter. That's good news, since there is no self-propulsion mechanism to speak of in this particular model. Instead, equipment owners simply push the overseeder throughout the lawn until the job is finished. The OS500 series comes with either a Honda or Briggs & Stratton engine, both of which are sufficiently powerful for both smaller tasks and long-term use. Perhaps the biggest selling point of this particular overseeder is that an available attachment easily converts it into a power rake, making it an all-around great accessory for lawn rejuvenation each spring.
Power Rake Dethatcher
One of the biggest problems during the spring is a lawn that has been matted down and "thatched" by a winter's worth of snow and other elements. This can prove problematic as the weather warms up, since thatch can prevent sunlight from reaching healthy grass and can often cause the lawn to suffer from unsightly brown patches. To get rid of this problem easily, a Billy Goat power rake breaks through thatch and opens the soil back up to sunlight, moisture, and nutrients.
For the typical homeowner in the United States, Billy Goat's power rake dethatcher is the best choice to restore a lawn's healthy, green appearance and its receptiveness to the benefits of summer sunlight. With either a Honda or Briggs & Stratton engine under the hood, the power rake's can be adjusted to either deep or shallow depths, handling relatively mild thatching as well as deep, entrenched thatch that requires a bit more aggressive raking and breakup.
CR550HC Compact Power Rake
For international Billy Goat customers, the CR550HC power rake is a natural fit for smaller lawns and commercial areas. A 5 horsepower Honda engine powers the compact equipment, allowing it to cover up to 13,200 acres per hour while aggressively removing both mild and thick pockets of thatch throughout the lawn. With construction-grade bearings, operator comfort features, and a weight of just 129 pounds, this equipment is perfect for easy storage and great, seasonal lawn rejuvenation.
BillyGoatParts.com Has the Equipment and Parts that Buyers Need
Billy Goat is easily one of the leading names in both home and commercial landscaping, with mowers and other equipment options that pack great power, excellent efficiency, and the ability to get even larger jobs done in a small amount of time. For consumers looking to bring that commitment to overseeding and dethatching, BillyGoatParts.com can help. The company has all of Billy Goat's most popular landscaping products on hand, including a number of overseeders and power rakes. Additionally, the site is full of OEM replacement parts that will make quick and easy work of routine maintenance and the occasional repair.