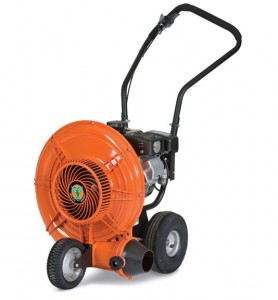 Whether for residential applications or use by contractors and landscaping professionals, Billy Goat's broad lineup of blowers can help clear foliage and debris all year long. Billy Goat's commitment to producing models of virtually every size, with several different engines and power levels, means that consumers of all types can find the equipment that best meets their needs. That's true in terms of range, real estate and terrain covered, storage concerns, and overall efficiency. Before choosing any of Billy Goat's models, it's worth understanding what makes each of them stand out for home or commercial use.
The F6 Small Property Blower
For residential customers that intend to use the Billy Goat blower in a relatively small or limited outdoor area, the F6 model is perfect. Its compact size makes the blower easy to store in a small toolshed or in a tight corner of the garage.
With a 169cc Subaru engine, 16, 16-inch fan blades, and more than two times the air volume associated with backpack blower models, the F6 is designed to perform better than virtually any competing option. Perhaps best of all, the blower's Aim-N-Shoot technology makes it easy to spot-treat areas of the lawn, even with smaller amounts of real estate involved.
The F9 Large Property Blower
For residential customers with a larger property to clear, or commercial customers looking to blend great power with compact overall blower size, the F9 is a clear solution. The equipment can come with one of three engines, manufactured by either Subaru or Honda, and it pairs those engines with slightly larger 17-inch blades.
There are still 16 fan blades in this model, which helps the equipment be just as compact as it is effective for larger areas. With Aim-n-Shoot control and almost 4 times the amount of air volume found in backpack models, the F9 means business and will perform quickly.
F13 Contractor / Municipal Model
The F13 blower is yet another step up, with the right size and features for regular municipal use to clear larger areas like athletic fields, parks, and more. The F13 model is offered in both push and self-propelled designs, with different engines that make clearing public spaces a breeze.
Overall, customers who choose the F13 for truly large commercial or municipal settings will be treated to more than 6 times the air volume found in backpack models. With 16 fan blades that measure 17 inches in length, this is one of the easiest blowers to use for extended periods of time. Its overall elevated level of air volume also means that self-propelled operation can be combined with fewer passes across larger, open areas.
The F18 Ultimate Model
With a 570cc commercial engine and a total of 28 horsepower, this blower is designed to make quick work of even the toughest cleaning and landscaping situations. The F18's Vanguard commercial engine and 17-inch blades are easily among the most powerful options on the market, but they don't add extra heft to this high-end blower. With total weights of between 170 and 183 pounds, buyers will be able to easily tote and tow this model across larger outdoor areas.
The F18 features forward displacement as well as the Billy Goat Aim-n-Shoot system, which helps it get more work done in a shorter amount of time overall. For those buyers who are looking to increase productivity while reducing blower bulk and total passes, the F18 Ultimate model is a natural fit.
FZ for your ZTR: The Attachment Equipment Owners Have Been Waiting For
Billy Goat's commitment to convenience can be seen in the many self-propelled blower models that it sells to consumers. Even so, there's one option that's even easier to use: The FZ blower for the company's ZTR engines attaches to existing mowing equipment and allows work to be done while riding in the mower's highly ergonomic seat. With 13 horsepower and nearly 200 miles per hour of total velocity, this blower means business and can provide quick results without producing a significant amount of operator fatigue.
The FZ blower for Billy Goat ZTR models doesn't have the company's Aim-n-Shoot technology included, but it does feature an advanced system of magnetic foot controls and throttle mechanisms that make the equipment easy and intuitive to control. All told, it's an affordable and natural way to leverage the power of a ZTR mower through late summer and into fall.
BillyGoatParts.com Can Help with Parts, Maintenance, and New Equipment
Customers in the market for a great blower, whether it's residential, commercial, or simply an attachment for an existing Billy Goat mower, will find what they need at BillyGoatParts.com. With plenty of new equipment models, and a great selection of OEM replacement parts, buyers will be able to get their hands on new equipment easily and maintain it effortlessly over the years. That's a great combination and a unique experience that can benefit equipment owners in every industry.