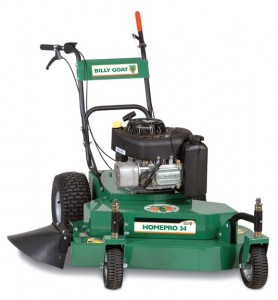 When it comes to finding a great push mower that can produce professional results even in residential environments, the choice can be tough. Plenty of companies offer mowers that have at least some professional features, but few of them offer a model that blends the best of lawn finishing, height versatility and professional-grade width that can accommodate lawns of varying sizes, terrains, and heights. Billy Goat's HOMEPRO Finish Mower is designed to be the right blend of all of these needs, however. The equipment is powered by a great engine, is wide enough to make easy work of even the largest lawns, and comes with thoughtful features that produce a professional, hassle-free appearance all summer long.
Features that Make a Real Difference for Residential Buyers
At first glance, the HOMEPRO might seem like just another typical walk behind mower for use around the home. That first impression is easily dispelled once homeowners take a good look at the features that make this mower stand out among the crowd. With bigger tires, mower power under the hood, and thoughtful design that makes the mower easier to use, this is a serious competitor for all types of homeowners.
It all starts with the mower's larger tires. While that might not sound like a big deal, the truth is that these tires do make quite a difference. Smaller tires, when used with walk behind mowers, tend to sink into the ground and leave tracks behind the equipment that don't fade for at least a few days. Larger tires tend to dig less, leaving behind a far less noticeable track that's often gone in 24 hours or less. That means the lawn looks professionally mowed, without evidence that a walk behind mower got the job done.
The mower is also a whopping 34 inches wide, which puts it significantly above competing models in terms of overall deck size. While that's great for homeowners with small lawns, it means that even those buyers who have large outdoor areas can use a walk behind mower in a practical way, without sacrificing hours of their time or a full day's worth of energy. Despite the 34-inch deck size, Billy Goat's HOMEPRO mower is compact enough to be stored in a small corner of the garage or within a typical toolshed. It's all thanks to the company's focus on trimming down extra bulk and focusing on a compact but effective design.
Finally, the HOMEPRO series is one of the only walk behind mowers that allows for both front and rear deck height adjustments, making it easy to accommodate unique seasonal mowing patterns and optimal grass lengths.
Billy Goat HOMEPRO Finish Mower Specifications
The Billy Goat HOMEPRO mower is decidedly compact, with a 34-inch deck that allows it to be stored alongside other landscaping equipment with ease. Despite its large deck size, the mower weighs just 241 pounds. That makes it easy to push and even lift if necessary.
The 241-pound weight of the mower is perfectly offset by a 10.5-horsepower Briggs & Stratton engine, which gives the mower the power it needs to move effectively through even taller, wetter grass around the home. A three-speed transaxle with a single reverse setting further enhances the mower's inherent mobility, making it easy to mow at the speed that works best for each type of homeowner and landscaper.
The HOMEPRO can cut grass as short as 1.5 inches, though its mower deck can be adjusted in both the front and read to accommodate longer cuts of up to 3.5 inches. With the available mulch kit accessory attached, the longest cutting length can be extended to a full four inches.
Accessories Make Mowing Even More Convenient
The HOMEPRO Finish Mower comes with the option of two accessories that can make mowing just a touch more convenient overall. The first of these is an attachable mulching kit that effortlessly turns grass clippings into the kind of nutrient-rich mulch that can spur the remaining grass to grow thicker, healthier, and more resilient throughout the summer months and into the cooler part of the year.
At the opposite end of the spectrum, Billy Goat offers a grass clipping catcher that prevents any clippings from going back into the lawn. The grass catcher is perfect for reducing dirt and allergens during mowing.
For Mowers and Parts, Check Out BillyGoatParts.com
To learn more about the Billy Goat HOMEPRO Finish Mower, be sure to check out BillyGoatParts.com. The site is full of information about the innovative walk behind mower for new buyers, while those who already own the HOMEPRO will find a great collection of OEM replacement parts that can help with the occasional repair or recommended maintenance procedures. With plenty of industry experience and some great, intuitive tools for parts lookup and identification, homeowners of all kinds will find exactly what their lawn needs.