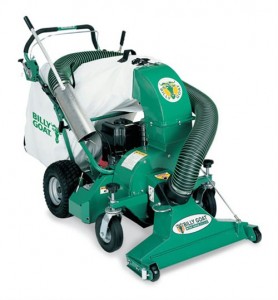 Sometimes a leaf blower just doesn't cut it when there's a significant amount of either litter or foliage to be cleaned up. When the better option is to simply rid the landscape of litter and leaves, homeowners and commercial landscapers should choose one of Billy Goat's vacuum models to get the job done. Each of the company's models can work with debris of varying sizes, vacuuming it up and removing it from the landscape entirely. It's a great way to keep an area free of litter, while also removing tree foliage and allowing the full effect of the sun and typical nutrients to reach the ground and keep lawns green. There are several excellent options to choose from when going with a Billy Goat vacuum, and each has carved out a unique niche among buyers.
For Typical Homeowners, the TKV Series is a Great Choice
Billy Goat's TKV leaf and litter vacuum is an excellent option for traditional homeowners with smaller yards and average landscaping needs. The equipment is notably self-propelled, making it much easier to operate for extended periods of time if the need arises. In addition to its self-propelled benefits, the equipment comes with a 27-inch width that will tackle both larger and smaller lawns with ease.
Variable height adjustment and an included dust skirt allow the equipment to handle debris of virtually any kind, all while protecting the operator and keeping grass or paved surfaces free of damage during operation.
A Step Up: The KV and MV Multi-Surface Vacuums
For larger residential environments, or smaller commercial areas where a full-sized, industrial vacuum product is simply too much, Billy Goat offers the KV multi-surface vacuum. The equipment is a touch bigger than the TKV series, and comes with both a five-blade impeller and a 2-inch chipper. The equipment also comes with a hose, making it easier to handle both smaller areas and larger debris that might not be compatible with the included dust skirt and other features.
KV series vacuums come with either Honda engines or a Briggs & Stratton alternative, making them sufficiently powerful to handle a wide range of working conditions and surfaces. Both engines offer superior power with added efficiency, making it possible to work for longer stretches without taking breaks.
For larger commercial settings or very large residential areas, Billy Goat offers the MV multi-surface vacuum as a larger and more powerful alternative to the KV. The MV a 29-inch "gobbler" door, self-propelled operation, six impeller blades, and other features that allow it to handle larger overall debris, braking it down and storing it without creating excessive amount of dust in the process. The MV series is a perfect option for moderate-sized warehouse environments, mid-sized park or outdoor gathering areas, and similar residential settings.
The "Quietest Vacuum in the World" is Billy Goat's QV Series
Billy Goat's QV QuietVac series is touted by the company as the world's quietest, and that's a pretty big achievement. The equipment only handles harder, solid surfaces, but it's an engineering marvel that serious commercial enterprises or contractors will welcome with open arms. Along with its exceedingly quiet operation, the QV QuietVac offers self-propelled operation, a unique filtration system for dust and debris, a hose system that is fully collapsible, and six-blade steel fan that is among the most durable and effective on the market.
For commercial areas or professional contractors, the QV is easily a top choice. It's more powerful than competing models, and its quiet operation will allow for routine use in areas that other vacuums would simply produce an inappropriate and outsized amount of noise.
The VQ Contractor: A Solid Industrial Performer for Hard Surfaces
If the world's quietest vacuum seems a bit undersized for the task at hand, Billy Goat has an alternative option that will certainly please the vast majority of contractors looking for a viable option. The VQ Contractor vacuum is, like its quiet sibling, designed for use on hard surfaces in commercial, contracting, or industrial environments. It features a larger, 33-inch "gobbler" than handle a large number of debris types, and backs up this larger size with a powerful Honda or Briggs & Stratton engine.
The VQ also comes with a large, 75-gallon debris bag and Billy Goat has equipped the vacuum with features that reduce vibration and lower operator fatigue during especially larger jobs. It's a top-of-the-line vacuum that just makes sense for today's contractors and commercial business owners.
For International Customers, the LB352 is a Great Choice
For customers outside the United States, Billy Goat produces the LB352 residential vacuum for smaller work in traditional lawns. The equipment measures just 20 inches wide and weighs in at 57 pounds. With a larger bag and adjustable height settings, operator comfort is ensured. Its ability to tackle both grassy areas and harder surfaces makes it versatile enough for virtually any homeowner around the world.
To Get Started with Billy Goat Vacuums, Visit BillyGoatParts.com
BillyGoatParts.com offers a wide range of Billy Goat products, including all of the company's vacuums for homeowners and commercial business owners. With a commitment to the equipment that includes regular service, maintenance, and OEM parts, customers will get the whole package by visiting the company's website and selecting the model that best meets their needs.