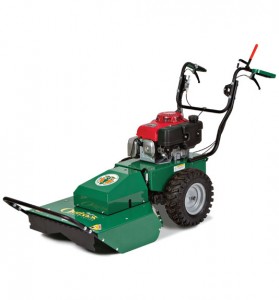 The Outback Hydro Drive and Outback Fixed Deck are built with the bulletproof construction Billy Goat is known for, but they take wildly different approaches to brushcutting. What are the differences between these models, and which one is the best choice for you?
Engine
Both brushcutters are available with a 388 cc Honda engine. If you prefer Briggs & Stratton, the fixed deck is offered with a 344 cc motor from the company. If you want an electric start, go for the BC2600HEBH Hydro Drive.
Transmission
The Hydro Drive gets its name from its Tuff Torq hydrostatic transmission. Since there's no gearing, the speed is infinitely variable so you can set just the right cutting speed. It also acts like a limited slip differential, locking each wheel individually when it starts to slip for better traction. Hydro Drives also come with wider wheels for increased grip on slick surfaces and inclines.
The Fixed Deck brushcutter has a geared transmission with three forward gears and reverse. The transmission and axle are built as a single unit eliminating linkages that can get caught on grass and brush.
Both brushcutters use a drive control system that lets the operator feather in drivetrain engagement for smooth takeoff and switch between forward and reverse gears without having to leave the handles, so whichever model you choose, it will be easy to use.
Deck
Both decks have a cut depth of 3.75 inches and a cutting swath that's 26 inches wide, but otherwise they couldn't be more different.
The Hydro Drive's deck can swivel up to 12 degrees and is designed to automatically level itself to follow rough terrain. Together with its high blade speed, it provides a very even finish.
As the name suggests, the Fixed Deck brushcutter's deck doesn't move. This keeps it from snagging on uneven ground, holes or other obstacles. This give it superior stability when mowing thick vegetation. The blades are mounted on a heavy duty spindle to endure the roughest conditions.
Which Brushcutter is Right for Me?
If you want the best finish, get an Outback Hydro Drive. Its high speed blades, adjustable speed and swiveling deck help it hug the ground and provide an even cut. It's also better for hills thanks to its anti-slip system and wide tires.
If you need to work on extremely rough terrain, get Billy Goat's Outback Fixed Deck brushcutter. Its fixed deck means you don't have to worry about cutting into the soil in areas where you can't clearly see due to ground cover, and its heavy duty spindle can better withstand the occasional bump when you do hit something. The geared transmission may lose some flexibility over the Hydro Drive, but since it's self-contained, it can take more abuse.
Where to Buy Parts for Billy Goat Brushcutters
www.billygoatparts.com is a certified Billy Goat dealer, so we have the OEM parts you need to keep your brushcutter running. Need something for the engine? We also carry parts for the engines used in Billy Goat equipment including the Honda and Briggs & Stratton engines used in these models. Parts lookup is easy thanks to built-in factory diagrams that let you see exactly what you're ordering, and we can ship whatever you need to any address in the U.S. and Canada.