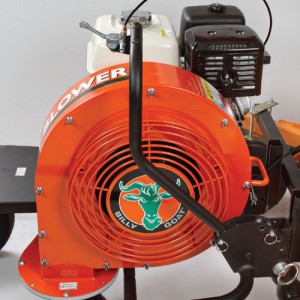 Handling a larger property when leaves begin to fall off the trees is no easy task, especially for those homeowners who have handheld leaf blowers or push models that they regularly use to clear dirt and debris from open areas. To make life just a bit easier during autumn and whenever else debris cleanup needs to happen, Billy Goat has developed its FZ Quick Attach Blower, designed to be mounted onto existing ZTR lawn mowers for added comfort and easier work all year long.
Unlike more conventional blowers, this one actually mounts onto the mower and uses the mower's engine and deck to get the job done. That means there's no walking, no need to hold the blower, and no need to get exhausted performing regular lawn work.
A Look at the FZ Quick Attach Blower's Features
Perhaps the most attractive feature of the FZ Quick Attach Blower is in its name: The system comes with a quick attachment and detachment mechanism that allows it to be added to the ZTR mower in a matter of moments when its services are required. That compares favorably to similar accessories from competing companies, many of which require an extensive installation period and feature a semi-permanent attachment method that might not be very convenient.
The blower features a 360-degree rotational discharge control that actually operates via a convenient foot pedal, making it easy to redirect leaves and other debris at a moment's notice while the mower covers large stretches of land. That's actually a bit more powerful than the rotational blower controls found on handheld models, and it's a great reason to choose the attachable FZ over those more cumbersome options.
For durability, the equipment comes with a wrap-around steel safety guard that's designed to protect the engine, fan blades, and other parts from occasional damage via airborne debris. This adds peace of mind to the job and ensures easier maintenance over time in many instances.
The Right Specs for Any Job
Billy goat doesn't cut corners when it comes to packing equipment with durable materials and a great amount of power behind the wheel. The company's FZ Quick Attach Blower is another example of this right from the start, with an impressive 16-blade fan system that can more effectively blow leaves and debris over longer distances when compared to the smaller number of blades found on walking models or handheld blowers.
At just 192 pounds, the equipment wont add a great deal of additional heft to the size and bulk of the existing ZTR mower. To compensate for the additional weight, and to power the impressive 16-blade fan system, the equipment does feature a small, 13-horsepower Honda engine that performs much more impressively than its horsepower rating might indicate.
In fact, the Honda engine paired with the Quick Attach Blower is actually capable of producing a whopping 200 miles per hour of total velocity during active operation. That's proof that the FZ Quick Attach Blower can handle even larger outdoor areas, while clearing debris from more challenging terrain and hilly areas around the home. All told, this Billy Goat attachable blower is simply more compact, more powerful, and more efficient than competing options designed for use with other mowers.
Available Accessories are Essential
Because the FZ Quick Attach Blower itself is considered an accessory, there are relatively few add-ons for the equipment once it has been attached to the Billy Goat mower. Perhaps the most important accessory is a heavy duty, JRCO mounting bracket for mowers that require this kind of mounting. The part is available through JRCO itself, though Billy Goat has done extensive testing to ensure that the bracket is fully compatible with the attachable blower.
Of course, the lack of accessories doesn't mean there aren't plenty of things to buy in order to keep the FZ Quick Attach Blower in great shape. In fact, Billy Goat recommends a wide range of regular maintenance procedures to protect the engine, ensure efficiency, and keep the equipment running like new. In the absence of accessories, equipment owners should consider searching for OEM replacement parts that will keep the engine, the blades, and other crucial parts running like new.
Where to Buy New Blowers and Replacement Parts
Whether it's a new FZ Quick Attach Blower or simply the replacement parts needed to ensure great regular maintenance, BillyGoatParts.com likely has what consumers are looking for. That's because the site features an online parts lookup tool, able to sort available OEM replacement parts by mower model number, part number, engine type, and equipment type. Additionally, BillyGoartParts.com has a great lineup of new Billy Goat equipment options, including the attachable blower for ZTR mowers. It's a great way to get started with regular lawn care and convenient new tools, while maintaining those that have already been purchased.