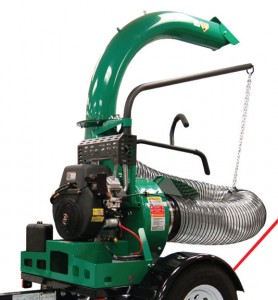 When it comes to clearing out everything from fall foliage to litter and other debris, most people are looking to minimize the time it takes to clean up as well as the costs associated with the entire process. Often, that means speeding up the actual cleanup with a high-powered engine while also reducing hauling costs and dumping fees. These needs are perhaps best met by Billy Goat's extensive lineup of debris loaders. The company has three distinct sizes available to buyers, with one serving the needs of entry-level residential customers while two higher-powered models are designed for effective contractor, commercial, and municipal use on a larger scale.
All three models come with innovative features designed to speed up the job, reduce timely clogs or mechanical malfunctions, and perform at an efficient level throughout even the largest tasks. Before selecting one of the available options, be sure to understand each model's unique features, benefits, and ideal settings.
DL12 / DL13 Series Entry
The DL12 and DL13 entry-level debris loaders are designed to work most effectively in smaller areas, primarily around the home or around a smaller office facility with limited open space. The loader comes with a large hose, measuring an impressive 8 inches in diameter. That hose is 10 feet long from start to finish, which makes it easy to place the equipment in a central location while extending the hose out to the property line of most smaller areas. The hose itself is made from a clear poly material, which allows operators to see what's flowing into the equipment and where there might be significant jams or other show-stopping problems.
Both the DL12 and DL13 debris loaders come with Honda engines, which produce either 12 or 13 horsepower based on customer preference. This horsepower rating is where each model derives its particular model number, making it easy to choose the right equipment size and engine profile all at once. A high-powered dual shredding system reduces the size of the debris load, while a safety kill switch ensures that all involved can get the job done as safely and as quickly as possible.
DL14 / DL18 Series Midsize Contractor
While the entry-level debris loaders sold by Billy Goat are perfect for homeowners with relatively small areas that need to be cleaned up and continuously managed, they might not be the best option for mid-size lawns, commercial facilities, and larger open spaces. For those areas, Billy Goat has worked on a better solution in its DL14 and DL18 debris loaders. The DL14 is actually only a modest upgrade from its DL13 counterpart, with a slightly larger Subaru engine producing 14 horsepower during regular operation. The DL18 features 18 horsepower during operation with a Vanguard engine.
Both of these models have pretty similar hose features found in the entry-level options sold by the company, with a slightly upgraded 10-inch hose diameter that's paired with an overall length of 10 feet. The hose itself is still made from the same high-quality, poly material that ships with the DL12 and DL13 models. Dual shredding technology is included with these models as well, creating the same favorable debris and dumping cost benefits as the entry-level option.
DL25 / DL35 Series Professional Contractor / Municipal
At the high end, Billy Goat has focused on creating equipment that can easily fit into municipal landscaping operations. The DL25 and DL35 debris loaders are designed to handle very large outdoor areas and larger debris loads with ease. The DL25 comes with a 25-horsepower Subaru engine, while its higher-powered counterpart comes with a 35-horsepower Vanguard engine that is the single most powerful option available to debris loader buyers. Both shredders come with dual shredding technology and 12:1 shredding capabilities that make it easy to turn even larger types of debris into light, easily disposable loads.
The hose used with this model receives yet another upgrade, with a 12-inch total diameter paired with the same 10-foot length found in the entry-level and mid-range options available to other buyers. The DL25 and DL35 are both a bit taller than the other models available, further enhancing their ability to handle serious debris loads and manage larger debris with a wider diameter on the ground. As with the other models available to buyers, the DL25 and DL35 debris loaders come with a safety kill switch that will keep municipal workers safe as they quickly get rid of fall foliage, storm damage, and litter.
BillyGoatParts.com Has the Debris Loaders that Buyers Need
For the full line of Billy Goat debris loaders, look no further than BillyGoatParts.com. The site offers all three product classes to consumers, making it easy to clean up natural debris and unfortunate accumulations of litter around the home, office, or in open municipal areas. Better yet, BillyGoatParts.com can help with OEM replacement parts for each of Billy Goat's debris loaders, making maintenance and repairs easier and more affordable for everyone involved.