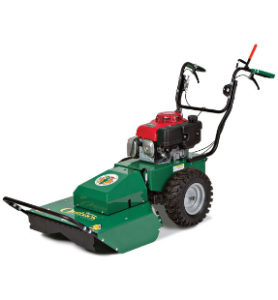 Do you need a machine that's tough on thick grass and brush and is easy to operate on difficult terrain? Billy Goat's BC26 Outback Brushcutter can slice tall growth and saplings with ease, while its drive system and swiveling deck make it easy to handle on any surface.
Deck
The BC26 uses a deck with a 26 cutting width and an average cutting height of 3.75 inches. Inside, the spindle is mounted to a base that is reinforced in four directions to withstand impacts with hidden objects including rocks, stumps, and even tires. The spindle drives a ¼ inch reinforced blade that can cut saplings up to two inches wide and brush up to 6 feet tall. A large brush guard ahead of the deck pushes down grass and branches to help the deck climb over them. The PTO uses a Kevlar belt that can absorb impacts when the blade strikes hard objects.
The entire deck is surrounded by metal: even the front is shielded by swinging metal plates. This lets vegetation get chopped up and dropped on the ground instead of being thrown. On the rear of the deck, rubberized trim extends the guards while increasing stump clearance.
A pivoting mount lets the deck tilt left or right up to 12 degrees. The hinge design returns to neutral automatically, so the deck always follows the shape of the ground for an even cut without operator intervention.
Engine
Both versions of this model are powered by a Honda GX390. Well known throughout the industry for its rugged, reliable design, its features also improve the BC 26's performance. The fuel and oiling systems can maintain power and lubrication at severe angles, letting this brushcutter operate at slopes up to 20 degrees. This powerplant sits directly over the wheels for maximum traction and stability.
Billy Goat makes two versions of this brushcutter: the BC2600HH uses an engine with a pull starter, while the BC2600HEBH's engine has a built-in electric starter.
Drive
The Outback uses a Tuff Torq hydrostatic transmission with automatic Enhanced Traction Control (ETC.) This acts like a limited slip differential, locking the wheels when one of them starts to spin. The brushcutter rides on a pair of 16 ½ inch off-road tires that provide extra grip on soft soil and rocky surfaces. On average, owners can expect to cover around ¾ of an acre per hour of operation.
Control
The operator steers the brushcutter using plow style handles with padded grips and knuckle guards. This lets the user maintain a comfortable operating position with plenty of leverage to lift and dip the deck.
The hand controls allow the transaxle to go between forward and reverse without having to stop to shift. Lightly pulling a drive handle allows power to be feathered in when operating when making precise movements around obstacles.
Warranty
Billy Goat guarantees the BC 26 for one year of commercial use, while Honda guarantees the GX390 for three years.
Getting Parts for Your Outback Brushcutter
From blades to bearings, if it's part of your Billy Goat equipment, you can get replacement parts from www.billygoatparts.com. Our site can show you parts for your specific model and serial number together with factory diagrams and descriptions so you know you're ordering exactly what you want. Need engine parts? We're also a certified Honda Engines dealer. We ship across the U.S. and Canada.