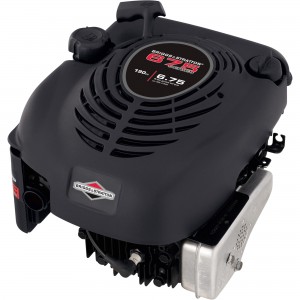 No matter what kind of Billy Goat equipment you're looking at buying, there's a good chance you'll be able to get the model you want with some choice in engines. Which one should you get? Here's what you can expect from each manufacturer and how their different advantages can best fit your individual use case.
Briggs & Stratton
B&S makes a lot of engines, letting manufacturers pick exactly the right design for their equipment. For Billy Goat, that means using a range of motors from their consumer and professional lines to get the best balance between power and weight. Consumer engines like the 675 Series put ease of use first, which means easy starts with low starter handle resistance and the elimination of priming bulbs and manual chokes.
For maximum power on their equipment, Billy Goat uses Briggs & Stratton's Vanguard series of commercial V-twin engines. Their compact design allows them to fit in spaces designed for single cylinder engines while keeping weight down to a manageable level. A high-performance dust management system including a dual element filter and fine mesh flywheel cover make these a great choice for blowers and other dirty applications. These motors have an automatic compression release so they're easy to turn over when starting. E-Smart models come with electric start and a pull start backup if the battery fails.
Most of these engines are warrantied for three years for residential use and two years of commercial use. Vanguard engines come with a three-year warranty for both residential and commercial owners.
Honda
Look at almost any piece of mid-size commercial grade power equipment and you'll find one of Honda's horizontal shaft GX or vertical shaft GXV engines, and for good reason: the design has proven to be one of the most reliable on the market. This starts with a digitally-controlled ignition system and a dual stage air filter ensure clean, effective fuel combustion for low emissions and a cleaner combustion chamber. This is backed with a ball bearing-supported forged steel crankshaft and cast iron cylinder sleeve can withstand years of heavy use. Larger displacement motors come with a balancer shaft to reduce vibration, while the Oil Alert system keeps the motor from running if there isn't enough oil to protect internal components. Automatic compression release and optional electric start make them easy to get running.
The CR550HC power rake uses a Honda GC Series engine. Like Briggs & Stratton, Honda designs their residential grade motors for ease of use. Its overhead cam design, aluminum block, resin camshaft and internal timing belt make this motor exceptionally quiet and lightweight.
Subaru
Look inside one of Subaru's EX series engines and you'll find a lot of similarities to the engines used in modern cars. It has an overhead cam design, which allows cooling fins to surround the valve stems for better head temperature control. This design allows the use of an efficient pentroof head, while a steel timing chain and cast iron cylinder sleeve ensure long term reliability. This design also reduces vibration up to 35% compared to competitors' models for increased operator comfort. The end result is a motor that bridges the gap between commercial reliability and consumer ease of use.
The key advantage of these engines is the warranty: Subaru Industrial Power Products guarantees these motors for 5 years, longer than any small engine manufacturer.
No Matter What You Choose, You Can Get Parts from BillyGoatParts.com
www.billygoatparts.com isn't just a certified Billy Goat dealer, we're also a dealer for every engine brand used in Billy Goat equipment, making us your one-stop shop for everything on your equipment. Our site has integrated factory parts diagrams to make it easy to find what you're looking for, and we can ship those parts to any address in the U.S. and Canada.