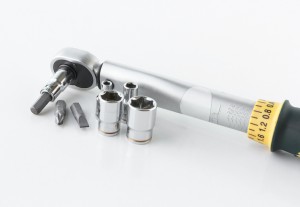 When you're working on your Billy Goat equipment, you've probably come across the instruction to "torque to X ft-lbs." What does setting the torque of a bolt or nut do? Is it safe to skip this and just tighten things down by hand? Do you really need to replace some bolts after they're used? Here's what you need to know to make sure spark plugs, fasteners and filters on your equipment are installed correctly.
Why Do So Many Parts Have Torque Specifications These Days?
Most DIY-ers either under tighten or overtighten bolts, leading to thread damage and parts failure. While torque specs used to be limited to critical components like engine head bolts, engineers are applying them to areas where damage from over- or under-tightening is likely. Pulling the spark plug threads out of your engine is expensive. Having the blade fly out of your brush cutter can seriously injure you.
Choosing a Torque Wrench
There are three designs on the market, but only two of these are good options when working on your equipment.
Beam-style wrenches have a gauge next to the handle and a long pointer attached to the wrench head. As you tighten the bolt, the handle flexes, moving the pointer left or right in relation to the handle. By matching the end of the pointer with the gauge, you can see how much torque you're applying. While these are cheap, they're difficult to read when working on anything that isn't pointing straight up.
Clicker torque wrenches have a spring inside the handle. Twisting the handle adjusts the tension on the spring. When you reach the desired torque, the spring moves a level inside the wrench, making a clicking sound. They don't cost much more than beam wrenches, and they're much easier to use.
A digital torque wrench uses sensors to measure flex. Once the desired torque is reached, it makes a beep. Most models have a display that shows the current torque. Digital torque adapters use the same measurement system, but they can be used with any ratchet wrench.
Mechanical torque wrenches are only accurate above 20% of their usable range, and electronic wrenches above 10%. That means you won't be able to accurately torque a spark plug with the same wrench you use for larger components.
Using Your Torque Wrench
Do not use lubricant unless instructed to do so. This will keep the bolt from tightening properly. That includes spark plugs. Unlike old plugs, the threads on modern plugs are machined to prevent them from seizing in the head.
First, use a regular wrench to screw down the component until it seats.
Set the torque wrench to half the recommended torque. Tighten the bolt, nut or spark plug. If you're putting a wheel on your stand-on blower, work in a star pattern. After you tighten a nut, move to the nut on the opposite side.
Set the torque wrench to the full recommended torque. Tighten the bolt, nut or spark plug. Again, use a star pattern when bolting on a wheel.
Caring for Your Torque Wrench
A torque wrench is a precision instrument. If you drop your torque wrench, it needs to be recalibrated. Just one shock can throw measurements off by as much as 30%. Always store the wrench in its case. If you have a clicker wrench, set the torque to "0" when storing to release tension on the spring.
Why Do I Need to Replace Some Bolts After They're Removed?
These are "stretch" bolts. They have metal that is formulated to handle severe shocks, stress, and heat. However, this also means they permanently stretch when they're torqued down. If they're reused, they won't be as tight, leading to failure. If a standard bolt is used, it will eventually break from stress.
Torque Settings for Your Billy Goat Equipment
This list is current as of the writing of this article. Always check your manual before tightening down parts of your equipment.
Debris Loader Impeller Bolts
DL14 and DL18 – 33-38 ft-lbs.
DL25 – 60 ft-lbs.
DL35, DL37, and DL39 – 175-180 ft-lbs.
BC2600 Hydro Brush Cutter blade – 30-40 ft-lbs.
PL2501 Hydro-Drive Aerator tines – 100 ft-lbs.
AET Series towable aerator tines – 100 ft-lbs.
Overseeder blade assembly end nut – 120 ft-lbs.
Hurricane Ride-On Blower transaxle filter – 180 in-lbs. (15 ft-lbs.)
Hurricane Ride-On Blower wheel lug nuts – 75 ft-lbs.
Briggs & Stratton and Vanguard spark plugs – 180 in-lbs. (15 ft-lbs.)
Need Parts for Your Billy Goat?
Billygoatparts.com is an authorized dealer for Billy Goat and their manufacturing partners.
That means we have new impeller bolts, spark plugs and everything else for your equipment. Our site has sections for frequently ordered parts, and our search engine can find parts and accessories that fit your model. When you look up a part, you'll see factory parts diagrams, so you can match what you're ordering to the part on your machine. We ship across the United States and Canada.