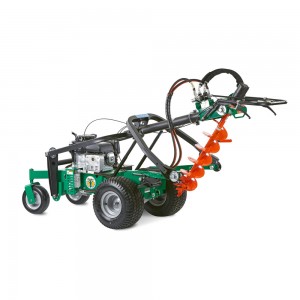 Billy Goat's AGR1301H auger makes it easy to dig holes, but even the best tools will only go so far. If you want to build a fence, you need perfectly straight, perfectly positioned holes with just the right depth to keep the posts in place over time. These tips will help you get these holes right, so you can build something you'll be proud of.
What Size of Auger Bit Do I Need?
Each hole should be three times as large as the post. Filling the space around the post with compacted dirt provides the support needed to keep the post in place. For most steel fence posts, you'll need a 6-inch auger to dig the right size hole, while 4×4 posts need holes dug by an 8-inch auger. If you're installing a lightweight fence for snow or sand, a three-inch bit is usually large enough to get the job done.
As a general rule of thumb, support posts should have 1/3 of their length buried in the ground. This gives the surrounding dirt enough grip to keep the post from moving. Gate posts should have ½ of their length buried, so they have added support to resist the twisting forces exerted by opening and closing the gate.
Holes need to reach deeper than the maximum frost level where you live. Dig too shallow of a hole, and frost heaving will push your posts out of the ground. In most of the country, a three-foot hole is more than deep enough to support a fence post. However, if you live in a particularly cold area, like Wisconsin or Maine, you may need to go four feet or more to get past the frost layer. If the hole is too shallow, frost heaves will push your fence posts out of the ground. You can always use an extension with your auger bit to get more depth when you dig.
What Pilot Bits and Teeth Do I Need on My Auger Bit?
Billy Goat offers three materials for pilot bits and teeth: carbide, dirt, and hardface. Carbide is the best at chipping rocks, but it wears out the fastest. Dirt only works well on soft ground, but it lasts the longest. Hardface bits are between these two extremes in hardness and wear.
Digging Pilot Holes
Once you start digging with your auger, there's no going back. This makes it critical to get each hole in the right position. Measure out the center point for each hole. Dig a shallow hole that's as wide as the flutes of the auger. This hole should be just deep enough to remove the turf and root system. This keeps the auger from wandering when it starts digging the hole.
Digging Post Holes
The AGR1301H is a whole lot easier to use than standard post hole augers. You don't need to wrestle with the engine on a post hole auger, and you don't have to guess at the angle like most wheeled augers. Just line up the auger with the spot you want to dig and drop it onto the soil. Lift the bit out for each foot you dig. This gives the flutes a chance to pull the dirt out of the hole.
Finishing Post Holes
Your auger will do most of the work, but your holes will need some finishing before you can drop in posts and fill them in with dirt. There are three tools that make quick work out of completing a post hole:
– A digging bar chips away rocks that protrude into the hole.
– A drain tile shovel has a narrow, curved head that's perfect for shaping holes and removing dirt at the bottom of the hole.
-A clamshell post hole digger can cut out roots, pick up dirt at the bottom of the hole, and extend holes that need to be deeper than your auger can reach.
Always cover holes with a sheet of plywood after digging. This keeps people and animals from stepping in them.
Everything You Need for Your Billy Goat from One Place
Billy Goat Parts is an authorized dealer for Billy Goat and Honda Engines, so we carry everything you need for your auger. Looking for a different bit, or need to swap out teeth on your current bit? We have what you need. Need to fix the engine or replace a tire? We have those parts, too. We make ordering easy with our sections for common parts. If you need something else, our search engine can narrow down options to the model and serial number of your machine. We even have factory parts diagrams, so you can see exactly what you're ordering. Visit us at www.billygoatparts.com. We can ship your order to any address in the U.S. or Canada.