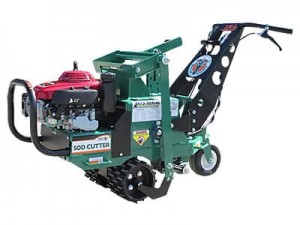 Is it time to rebuild your turf? Do you want to transplant some of the grass on your lawn? Either way, you'll need to cut away the sod. These tips will help you prepare your lawn, get a good cut from your Billy Goat sod cutter, and keep your sod alive until you're ready to plant it.
Watering for a Better Cut
Like regular lawn watering, you should water soil before cutting so that it is moist, not muddy or dry. This helps the sod cutter blade slice through the soil, and helps the grass survive transplanting.
Apply 1-1.5 inches of water over the week before sod cutting. By the time you're ready to cut the sod, the top two inches of soil should be moist. This is ideal for a good cut. Stop watering the day before cutting to let the soil fully absorb the water.
Mowing
Mow your lawn the day before you cut the soil. Cut the lawn to the lowest height that is safe for your lawn's grass varieties. This makes it easier to see where you're cutting and helps keep the weight of the sod sections down.
Marking Your Cut
Are you only taking out part of your lawn? Do you have a sprinkler system or other obstacles that you don't want to hit with your sod cutter? Mark these area with spray chalk or grass striping paint. Chalk is easier to wash off than paint. This is good for dry climates, but a short storm or a dewy morning can fade or wash away the lines.
Preparing Your Sod Cutter
Sharpen the blade. Like a mower blade, your sod cutter blade should be as sharp as a butter knife. If the blade is cracked, bent or worn down, replace it. The bolts holding the blade to the machine are wear items, so they need to be replaced as well. Billy Goat includes this hardware with their replacement blades.
Check the tire pressure. If the pressure between the left and right tires is uneven, your sod cutter will want to pull in one direction. The correct pressure is printed on the sidewall of the tire.
Check the cables and belts. These parts stretch over time, especially during the initial break-in period. The drive system and blade clutch should engage and disengage easily.
Getting a Good Cut
The blade needs to be low enough to cut a 1/4-3/8 inch layer of soil underneath the ends of the roots. This protects the root system, while keeping the weight of each sod strip to a minimum. You will probably need to make a few short runs to find the right height. Never adjust the blade height while the cutter is in motion.
Overlap with each pass to avoid leaving narrow strips of uncut sod. The shorter these strips are, the easier they will be to move around. A standard 80 x 18 inch roll weighs between 35 and 45 lbs, depending on its moisture content.
To get a clean cut at the end of each strip, release the clutch and speed control levers and let the sod cutter come to a stop. Raise the blade to its maximum height, then engage both the clutch and speed control levers. This pulls the blade up through the soil, slicing off the end of the strip.
If you strike an object, stop the sod cutter immediately. Lift the blade to its maximum height and inspect it. Sod cutter blades are made of a brittle alloy to maintain their edge. This makes them more susceptible to cracking than mower blades.
Preserving Cut Sod
Lay your sod on a base of dampened burlap. As you lay down each section or roll, lightly water the surface. Stacking sod helps it retain moisture. Make sure you're able to move your sod stack, or build it in an area where it can be stored until use. To give you an idea of just how heavy a sod pile can be, a standard 60 roll pallet weighs between 2,000-3,000 lbs. depending on moisture content. These rolls are usually stacked in 6 layers of 10.
Sod will store for anywhere between 12 hours and 5 days depending on the weather. At temperatures above 80 degrees F, the grass will try to grow. This leads to heat buildup in the pile that destroys the sod after a few hours. At lower temperatures in the spring and fall, the grass will remain dormant.
Everything You Need for Your Billy Goat
Whether you have a Hydro-Drive or a SC121H sod cutter, you can get the parts you need for it at Billy Goat Parts. We're an authorized dealer for Billy Goat, Honda and Tuff-Torq, so we carry everything you need to repair your equipment. We make ordering parts easy by grouping together common replacement parts and by offering a search engine that can narrow results down to your model and serial number. Visit us at www.billygoatparts.com. We can ship your order to any address in the United States or Canada.