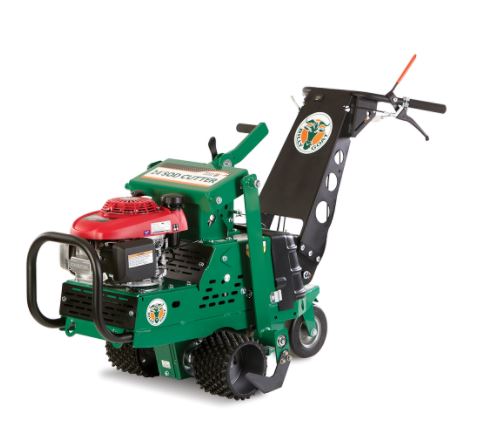 When you manage turf for a living, you have high demands. You need equipment that delivers great results, withstands years of use, and cuts job times. When you deal with sports turf, you also need something that does all that, and won't damage the turf. Billy Goat's new SC240HG meets those needs. This new model is 33% wider than other Hydro-Drive sod cutters, yet it's gentle enough to use on golf courses. The design also brings significant improvements for better performance and reliability. What is it about this new aerator that makes it such a great choice for sports fields, sod farms, and golf courses? 
Power
The SC240HG is powered by a Honda GSV190. This is a hybrid design, combining features from their commercial GX with the consumer GC engine lines. The result is an engine that has a cast-iron cylinder liner and dual element air cleaner for durability, plus a compact overhead cam head for lower operating temperatures and greater performance. In this application, it produces 6.5 HP.  
The engine sends power to a Hydro-Gear RT-310 hydrostatic transmission. This commercial all-in-one unit is built for heavy commercial work. It's typically found in large snow throwers, so it should have no trouble pushing the sod cutter's blade through the soil. Venting around the aerator's case keeps the transmission cool, further increasing its service life. The steel case surrounding the mechanical components has doors on the front and back for servicing. Billy Goat includes an hour meter, so you can keep on top of maintenance.
Cutting
The SC240 uses a new laser-treated blade that lasts up to three times longer than standard blades. It's also more resistant to abrasion from sandy soils. The blade is raised and lowered using a cast iron gearbox with spiral-cut gears connected to a one-inch stability bar. The one-inch steel jackshaft rides on sealed bearings and is connected to the gearbox by an armor-coated chain that offers excellent corrosion and weather resistance. A 3/8-inch steel subframe with ½ inch lateral supports increases frame rigidity, helping the blade track straight through the soil.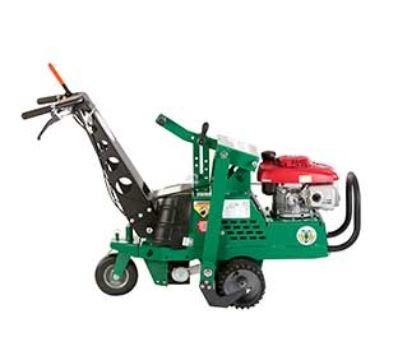 The SC240HG is 26.5 inches wide and 60 inches long, while the cutting blade is 24 inches wide. With little in the way of overhang, it's easy to cut close to buildings, fences, and other obstacles. A single lever and clamp set blade height, which can be as deep as 2.5 inches. The machine has a dry weight of 403 bs., helping it push through the soil without requiring additional weight.
The SC240HG has wide, knobby front wheels for golf turf, spreading out the weight of the machine to minimize scrubbing. A rear caster wheel allows easy turning, again with a focus on minimizing turf damage.
Comfort and Ease of Use
Care was taken to make this machine easy to operate. The handle attaches using isolation mounts, limiting the transfer of vibrations. Hydrostatic drive controls are split across two levers, one for forward and the other for reverse.
A heavy-duty bumper on the front of the machine protects it from impacts. Loading is easy, thanks to teardrop-shaped tie-downs built into the front and back of the frame. This automatically centers ropes and chains, keeping the cutter secure on your trailer. 
Warranty
Honda covers the engine with a 3-year residential and commercial warranty. Billy Goat covers the rest of the machine for one year of commercial or residential use.
We Can Help You Keep Your Equipment Running
Downtime costs money, so it pays to use the best parts when you repair your equipment. Billy Goat Parts is a certified dealer, so we only carry OEM parts from Billy Goat and their suppliers. That means you can get everything you need for your equipment from us, including engine and drivetrain parts. Ordering is easy, too. Just select your model and serial number when you use our search engine, and you'll see parts information and diagrams specific to your machine. When you need to work on your Billy Goat, visit us at www.billygoatparts.com. We ship anywhere in the U.S. and Canada.