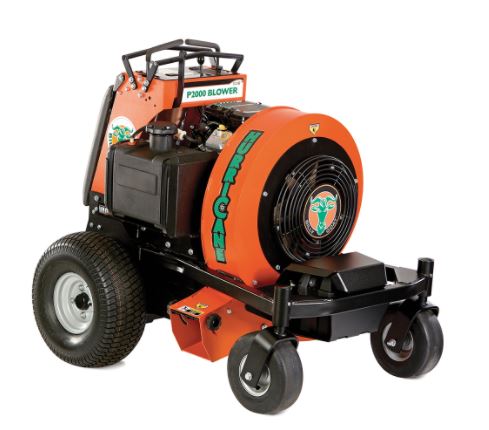 Billy Goat's Hurricane stander blowers offer unparalleled performance and speed for debris cleanup, but they can be too big for some jobs. This is why they're rolling out the new P2000. This new model bridges the gap between the X3000 stander and the municipal-grade F13 walk-behind blower. So, how does it fit into your lawn care needs? 
How Does It Work?
For the most part, operating the P2000 is like any stander mower. The operator stands on a shock-absorbing footplate and leans against a large thigh pad while holding onto two pairs of fixed handles surrounding the hydrostatic controls. Each hydrostatic lever controls one wheel motor. Varying speed between the motors turns the machine, just like a zero-turning radius mower. This operating position gives the operator a clear view of the surrounding area and makes it easy to step off to open gates and move obstacles. When the operator presence control detects the operator stepping off of the footplate, it automatically returns the vent doors to neutral and activates the parking brake. 
A large impeller draws in air and forces it through chutes on the left, right, and front of the blower. Each vent has two doors. Opening and closing these doors redirects the air side to side while closing them completely blocks air from the vent. It may sound complicated, but control is actually quite easy. The doors for all three vents are connected to a set of foot pedals and a joystick. Just push the pedal for the side you want air to blow, then point the stick where you want the air to go. Air velocity from these vents is over 150 mph, with a maximum flow rate of 3,500 cubic feet of air per minute. 
This blower is powered by a 570cc Vanguard V-Twin making 18 HP. The wheels are powered by a pair of Hydro-Gear 3100 IZT hydrostatic transmissions, propelling the P2000 to a top speed of 8 MPH. The operator tower has an integrated 5-gallon gas tank, which will keep the engine running for a full day of work before refueling.
Like other Billy Goat products, this blower is designed for easy maintenance. The engine is exposed while lifting the thigh pad provides access to the hydrostatic motors and fluid reservoirs. The battery sits near the front of the frame under an easy-to-remove cover. 
How Does It Compare to Other Leaf Blowers?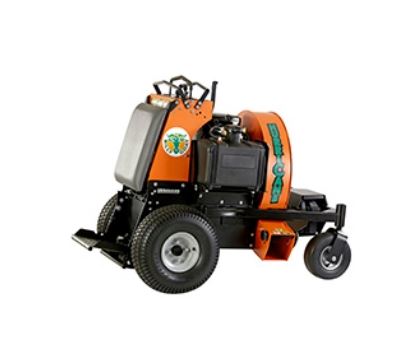 The P2000 moves 1,000 fewer cubic feet of air per minute than the X3000 (the next smallest stand-on blower in the Hurricane lineup) while air velocity is the same. Compared to the F13, Billy Goat's largest walk-behind blower, it doesn't have quite as much air velocity, but what it does is move twice as much air.
Accessories
The P2000 comes with everything you need to push away debris over large areas. However, there are a couple add-ons to consider that may help this machine better fit your work environment.
Want to use your blower in low light conditions? Billy Goat makes an LED headlight kit that gives you the visibility you need for overcast skies and long workdays. 
Do you mostly need to clear driveways, sidewalks, and parking lots? By switching to a pavement tire and wheelset, you'll get a better grip and longer life from your tires. 
New or Old, We Have What You Need for Your Billy Goat
Billy Goat Parts is your source for everything Billy Goat. We're an authorized dealer for Billy Goat, as well as their manufacturing partners, including Vanguard and Hydro-Gear. That means we can ship replacements for anything on your blower to any address in the U.S. or Canada. Not sure what you need? Our search engine can show you factory diagrams and parts information specific to the model and version of your equipment. That way, you know you're ordering exactly what you need. Visit us at our website, www.billygoatparts.com.