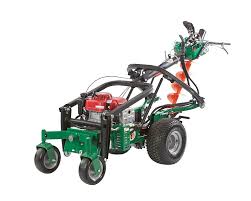 Choosing a post hole auger usually requires some compromises. One and two-man augers are heavy, awkward and limited in power. Large augers require a tractor for transport and power. Self-propelled and trailer-mounted augers aren't much smaller than a tractor. They're also hard to lower into position accurately. However, Billy Goat's new AGR1300H manages to deliver the features you want without the compromises. This self-propelled post hole auger uses an innovative design that is compact and easy to use. It has plenty of power, an easy system for dropping, and it fits in the bed of a small truck.
Z-Link: Making Self-Propelled Augers Practical
Positioning a portable or attachment auger isn't too difficult: either you drop the bit onto the right spot, or you drive your tractor into position. However, most self-propelled augers are little more than a trailer with a boom. The bit moves in an arc as it's lowered, requiring the use of a spotter or a lot of back and forth to get into position.
The AGR1300H solves this problem with its patent-pending Z-Link mount. The auger is attached to scissoring arms that allow the auger to be lowered straight down from the controls. This makes it easy to line up the bit exactly where it needs to be. Spring lift struts support the load, taking the strain off of the operator without needing a long boom.
Simple Controls
This landscape auger uses the same hydraulic drive controls as other Billy Goat equipment, making it easy to learn. Just move the right lever to roll forward, and move the left handle to roll backward. Once in place, pushing a single lever drops the bit onto the ground. From there, just move the clearly-labeled handle to spin the auger forward to drill or reverse to help lift it out of the dirt. A spring-loaded parking brake locks down the rear wheels to keep the auger drilling straight, even on slopes.
Pulling the transport lever swings the bit forward to keep it from scraping the ground. For smooth transport, the auger is mounted on high floatation rear tires and a pivoting front wheel caster. This is the same setup used by many mid-deck ZTR mowers to get an even cut.
Power
Instead of a heavy driveshaft and gearbox, this auger uses the same hydraulic system used to power the drive motor. A 13 HP Honda GXV390 operates a 10 GPM pump, producing 350 ft-lbs. of bit torque. That puts it well ahead of most self-propelled and towable post hole diggers on the market. As equipped, the AGR1300H can handle bits with widths from 2-18 inches.
Compact For Easy Transport
The AGR1300H is just 103 inches long and has a height of 60 inches while in operation or 52.5 inches in transport mode. That means it can fit in a 6-foot truck bed with the tailgate up. Climbing up and down ramps is no problem thanks to the hydrostatic drive, making it perfect for freeing up space on your trailer or renting it out to weekend DIYers.
Bit Compatibility
The AGR1300H comes standard with a 7/8 inch bit, and adapters are available for 1 ¼ and 1 3/8 inch bits so you can use auger bits you already own. Billy Goat offers their own 8×36 inch and 12×42 inch bits. These are compatible with pilot bits and wisdom teeth in hard face, carbide, and dirt versions to cut a variety of soils.
Get the Parts Support You Need for Your Billy Goat Equipment
Billygoatparts.com is more than an online retailer. We're an authorized dealer for Billy Goat and Honda Engines, which means we offer everything you need for this auger. That includes pump parts, engine parts, adapters, teeth, and bits. Finding parts is easy, too: just select your model and serial number, and our site will show you factory diagrams and descriptions for your model. We ship across the U.S. and Canada.