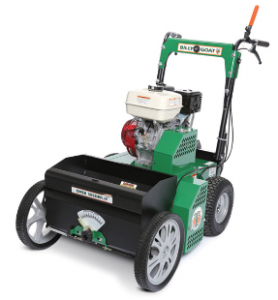 Spring is coming, and that means it's time to get your power rake or overseeder ready to repair damage done by winter weather. Here's what you need to check to make sure your equipment is ready to work.
Hydrostatic Transmission
The transmissions used in the OS900 and OS901 are maintenance free. However, the area where the overseeder was stored should be inspected to find any leaks that may be coming from the transmission. If a leak is found, the transmission may need to be rebuilt or replaced.
Blades
Flail blades on the CR550HC should be at least three inches, while they should be at least 3.25 inches long on the PR550. Slicing blades on all models should be at least three inches long. If any blade has worn down past this point, all blades should be replaced as a set. If oil was applied to the blades before storage, they should be wiped clean before use.
Fuel
If you don't plan on immediately putting your overseeder or power rake to work, you should add a fuel treatment to your gas to keep it stable. Even with this treatment, you shouldn't use gas that is over three months old. If fuel was left in the engine, it needs to be drained and replaced with fresh fuel before use. Stale fuel can be safely used in cars and trucks where it will be diluted with fresh fuel.
Fuel should only come to the bottom of the filler neck. This air space is needed to compensate for expansion as the gas heats up. Make sure the holes in the cap are clean to allow air to enter the tank.
Oil
Both Honda and Subaru dipsticks are designed to be read after they've been inserted into the filler neck without screwing them in. On Briggs & Stratton Vanguard engines, the dipstick should be fully inserted to get an accurate reading. 10W30 is recommended for all engines used in these machines.
If the oil wasn't changed before storage, it should be changed now. Even though the oil hasn't been used for months, it can still break down from long-term exposure to acids present in combustion gases.
Cables
The levers and bails should move freely. If they don't, apply a penetrating oil and gently move the cable back and forth until it slides smoothly. Follow this with an application of a light oil or silicone spray to keep the cable lubricated.
Air Filter
The air cleaner and filters should be inspected for debris left behind by insects and small animals. Paper filter elements can be cleaned by tapping them against a hard surface. To clean foam elements, wash them with water and a mild detergent. Honda and Briggs & Stratton filters should be soaked in clean engine oil and squeezed out before re-installation. Subaru filters should be left dry.
Belts
Belts should be replaced if they're cracked or the idler pulley isn't keeping them tight when engaged.
The drive belts on all models can be accessed by taking the screws off of the belt cover, located on the left side of the machine.
To access the jackshaft and mule belts on the OS 500, lift up the overseeder on blocks and remove the right rear tire. Unhook the spring next to the axle and lift up the cover.
Engine Smoke on First Start
If you lubricated the cylinder when putting the overseeder into storage, don't be surprised if you see some smoke on the first startup. This is simply the oil inside the cylinder burning off. The exhaust should turn clear after a couple minutes.
Getting Parts for Your Billy Goat Overseeder or Power Rake
Billygoatparts.com is a certified dealer for Billy Goat, Hydro-Gear, Honda Engines, Subaru Power and Briggs & Stratton Vanguard. This lets us offer replacement parts for everything on your Billy Goat equipment. Not quite sure what you need? Our site lets you search for parts based on your model and can show you parts diagrams and factory descriptions. We can ship your order to any address in the U.S. or Canada.