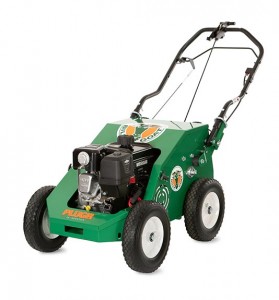 Just because you have a small yard doesn't mean you have to compromise on performance. The PL1800 and PL1801 PLUGR aerators use Billy Goat's reciprocating tine system, delivering top quality results without the difficulties of drum aerators. Their simple design is less likely to tear up turf, making these machines a great choice for homeowners and rental businesses.
Small Size Without the Compromises
These PLUGR aerators work a strip 18 inches wide, and can make cores up to 2.75 inches deep. The design places the engine directly over the tines, using its weight to help push through the soil. This eliminates the need for extra weights. As a result, the entire aerator weighs just 240 lbs. That's about 100 lbs. less than a similarly sized aerator before adding weights or filling the drum with water.
Unlike drum aerators, the PLUGR doesn't have to be lifted to make a turn. The reciprocating action keeps the tines moving in and out of the soil cleanly as you turn. Need to back up? You can still keep the tines engaged, increasing the hole density. By actively pushing tines into the soil, the machine doesn't have to vibrate to get good penetration. You don't just get better aeration with these machines. They also make those holes more efficiently with less noise and vibration.
The 1800 and 1801 don't come equipped with hydrostatic drive. However, the action of the tines helps pull the aerator forward, taking some of the effort out of pushing this machine. Fingertip controls on the handle engage the tines and drive system. Once engaged, the aerator can be pushed and turned just like a walk-behind mower. With a total width of 24 inches, it has no trouble getting around heavily landscaped lawns. You can expect to cover 22,000 square feet, or about half an acre, per hour.
You have 5 choices when it comes to tines: 3/8 and 7/8 inch solid spike tines, 3/8 and 5/8 inch hollow core tines and wide Zoysia transfer hollow tines for transplanting grass.
Maintenance
The reciprocating tine system uses just four tines. They screw into arms connected to the camshaft, letting you replace them without taking the camshaft out of the aerator. Switching between tines only takes a few minutes.
The PL1800 and 1801 have a one-piece lift-off cover for easy maintenance. With this cover off, you have full access to the engine, belt drive and tine shaft. Getting the parts for maintenance is easy, too. Billy Goat offers complete service kits, including new core tines, a belt and grease for installation.
The aerator's easy fold handle uses metal loops to hold the handle in place. When you're done using the aerator, just slide these loops up, and fold the handle forward.
What's New for the PL1801?
The PL1801 is an updated version of the 1800, but Billy Goat still sells both models. The two aerators are mostly identical, but the PL1801 has some upgrades that make it more reliable and easier to use:
– The wheels have better bearings, increasing their service life.
– The redesigned drive system uses a longer belt. This spreads out the load when de-clutching, increasing the belt's service life.
– The handle attaches using isolation mounts. These absorb vibrations before they can reach the hands of the operator.
– On the back, you'll find a sticker directing you to text a number to get a video tutorial. This makes it easy for rental customers to get up to speed on using this aerator.
Models
Billy Goat makes two versions of the PL1800 and PL1801. The only difference between these versions is their engines. Both the PL1800H and PL1801H are powered by a Honda GX 190, while the PL 1800 and PL1801V are powered by a Vanguard 205cc. Despite the different displacements, these engines make about the same amount of power.
Warranty
Both Honda and Vanguard guarantee their engines for three years of commercial use. Billy Goat guarantees the rest of the PL1800 and 1801 for one year of commercial use.
Keeping Your PLUGR Aerator Running
When you need parts and accessories for your Billy Goat, visit the experts at Billy Goat Parts. We're a certified dealer for Billy Goat, Honda and Vanguard. That means we sell OEM replacement parts that cover your entire aerator. We also carry replacement tines in every shape and size to fit your lawn care needs. To make finding parts easy, we have sections for commonly needed parts, like air filters and belts. If you need something else, our search engine can show you factory diagrams and parts information specific to your machine. That way you know you're buying exactly what you need. To order, visit www.billygoatparts.com. We can ship what you need to any address in the U.S. or Canada.