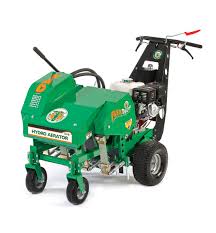 Drum aerators are cheap, but they have a lot of disadvantages. They're heavy, hard to maintain, take a lot of time to use, and can do major damage if used improperly. Billy Goat's AE1300H aerator solves these problems by using a reciprocating tine system. This makes it faster, lets it make more holes with each pass, and it can even turn without damaging soil. Commercial users can easily recoup costs in labor savings and reduced turf repairs, while the ruggedness and simplicity of this aerator makes it a great choice for rental companies.
Variable Aeration Density
Since the movement of the tines isn't connected to the aerator speed, it's possible to get the hole density you need in one pass. The slower you move, the more times the tines will penetrate the soil, leaving behind anywhere from 8 to 48 holes per square foot. That's two to 10 times as many holes as drum aerator. If you need greater hole density for bare spots where you're doing patch repair or preparing seed beds, just slow down in these areas to add more holes. Once you're out of the area, you can speed up to return to your previous hole density. Billy Goat recommends these speeds for common lawn care tasks:
0.5 MPH: 48 holes sq ft, patching and seeding
2 MPH: 12 holes sq ft, high-density aeration
4 MPH: 8 holes sq ft, regular aeration
If that top speed seems a little fast, keep in mind that Billy Goat offers a chariot that hooks to the back of the AE1300. This lets you stand behind the aerator as it pulls you along.
The benefits don't stop there. Billy Goat's Flextech arms use a reciprocating motion to move pairs of tines in and out of soil. This action lets the tines dig up to three inches into the soil, about twice as deep as a comparable drum aerator.
The AE1300H has a top speed of 4.3 MPH. Since the wheels are in line with the tine mechanism, this aerator has the same width as a 26-inch drum aerator, but it covers 30 inches with each pass. Between the increased width and speed, this machine can aerate almost 60% faster than a comparable drum aerator. That's without taking hole density into account. In real world use, you may see more significant time savings using this aerator.
Easier to Use
Drum aerators only work when they're rolling straight forward. If you turn or back up with the tines against the ground, they'll tear up the turf. The AE1300's reciprocating system lets it aerate in reverse, and the tines won't drag in turns, leaving behind clean holes. This doesn't just mean this aerator is easier to use. It also gets into areas that are unreachable with regular aerators.
Hills are no problem, either. By using a long platform and massive 15-inch tires on the drive axle, this model has no trouble climbing slopes up to 20 degrees.
There are just 8 tines held on by four bolts. Inspecting, cleaning, and replacing tines takes a fraction of the time to do compared to other machines. If you need to spike aerate to avoid cores or improve drainage, Billy Goat offers solid steel tines for this model that can be swapped out in minutes.
This aerator uses a hydrostatic drive, giving the operator infinite speed control. By separating the drive system from the engine and tines, it also reduces the transfer of vibrations to the handles.
Engine
Billy Goat uses Honda's GX 390 to power this machine. It's not as groundbreaking as this aerator's design, but it's easy to see why Billy Goat chose it for this machine. The GX Series has a reputation for fuel efficiency, low noise, and unparalleled reliability.
Warranty
Honda guarantees the engine in the AE1300H for three years, whether it's used for residential, commercial, or rental use. Billy Goat guarantees the rest of this aerator for one year, no matter how it's used.
Get the Parts You Need Straight from Your Browser
From tines to spark plugs, Billy Goat Parts has everything you need to keep your Billy Goat equipment running. We're an authorized dealer for Billy Goat and Honda Engines, so we carry everything you need for your machine. Our site makes ordering simple: we have common parts sections, and our search engine can show you parts diagrams and factory descriptions for your model. This makes it easy to match up what you're ordering with what's on your machine. Visit us at www.billygoatparts.com. We can ship your order to any address in the United States or Canada.