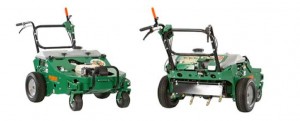 The new Next Gen 25-Inch Width PLUGR Aerator isn't just a bigger version of their other PLUGR aerators: it's an all new design that offers major improvements in operation, maintenance and performance. Able to cover up to one acre per hour, it offers a 30% greater return on investment than a drum aerator, and its Variable Aeration Density system lets you change hole patterns to heavy and light aeration as well as patching and seeding.
Control
The hydrostatic drive is controlled using two levers on the handles: one moves the machine forward, while the other rolls it backward. To protect the operator and prevent lawn damage, the reverse lever is only enabled when the tines are in the transport position.
The EZ Drop tine system uses a single lever for depth control, allowing the operator to raise the tines while in motion to get over obstacles like sprinklers and utility covers. With the lever open, the tines are in position, but not connected to drive, so they can move freely.
The EZ Lift system uses a rear foot pedal to lift and lock tines in the transport position with a single motion, then drops them back into operating position as soon as the tine lever is engaged. This lets the operator roll over pavement without having to tilt the machine back on its rear wheels.
The PLUGR is designed to handle slopes up to 15 degrees. The front casters can be locked to keep the aerator tracking straight on hills.
Aeration
Instead of a roller, the PLUGR uses a cam to plunge tines into the soil. The cam's reciprocating motion reduces compaction around core walls. Billy Goat's Variable Aeration Density (VAD) system allows the cam and drive speed to be adjusted to get three hole patterns:
– 48 holes per square foot at 0.5 mph for patching and seeding
– 12 holes per square foot at 2 mph for high hole density aerating
– 8 holes per square foot at 4 mph for fast aerating
Depending on the mode, the PLUGR is able to make 2-10 times more holes per pass than a drum aerator, decreasing job times and saving on fuel. Maximum core depth is 2.75 inches, which is almost an inch deeper than most drum aerators.
Unlike stand-on and drum aerators, the PLUGR is capable of making in-ground turns thanks to its reciprocating tines. That means there's no need to awkwardly lift the aerator or worry about turf damage when changing direction. An integrated water tank adds 40 lbs. of weight over the tines when full for better soil penetration. When work is finished, the two drains on the base of the tank can be opened to make the aerator lighter and easier to transport.
Power
The PL2501SPH is powered by a Honda GX160. This 4.8 HP engine has a reputation for rock-solid reliability, and its low friction design makes it quiet and cheap on fuel.
The PL2501SPV uses the new Vanguard 200. It has a cyclonic air filtration system with a self-cleaning filter, so the engine will last longer and stay at peak performance when working in dusty areas. It produces 6.5 HP, giving it an edge in performance over the Honda.
Maintenance
Billy Goat equipment is well known for being easy to care for, and this new aerator is no exception. Both the water tank and hood flip up without requiring tools, providing access to the machine's drive and aeration components. The reciprocating system only uses 6 tines, making them easier to care for and replace than the multitude of tines needed for drum-based systems. While the front tires are pneumatic, the rear tires are foam-filled, so they never need to be aired up.
Getting Parts for the Next Gen PLUGR
Whether you have the company's latest model or you need help keeping older equipment running, you can get everything you need for your Billy Goat from www.billygoatparts.com. We're an authorized dealer for Billy Goat and their manufacturing partners including Briggs & Stratton and Honda Engines, which means we offer everything you need for equipment. Select your model and serial number using our search engine, and our site will show you compatible parts, factory descriptions and parts diagrams, making it easy to find what you need. We ship across the U.S. and Canada.