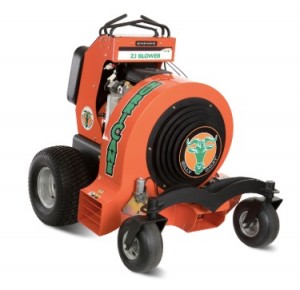 Billy Goat recently announced a new line of leaf blowers that may look familiar if you've shopped for lawn equipment recently. As part of a deal with Hurricane Power, Billy Goat is adding the X3 and Z3 stand-on blowers to their lineup. What can you expect from these new machines, and how do they stack up when compared to the company's Force walk-behind blowers?
New to Billy Goat, but Not to the Market
These "new" blowers are the same ones offered by Hurricane Power, just with new paint and graphics. Billy Goat's parent company, Briggs & Stratton, acquired Hurricane's Stand-On blower line back in August. These were a natural fit for Billy Goat as their class-leading performance compliment their line of Force wheeled blowers.
What is a Hurricane?
These standers use metal impeller cases. These aren't as efficient or quiet as the plastic housings used on Force blowers. This isn't much of an issue since the engines can be bigger than those used on wheeled blowers, and their high output makes them a better fit for large lawns where the noise is less likely to disturb neighbors.
Instead of having a single, adjustable chute, the Hurricane has three discharge chutes mounted on the left, right and front of the impeller case, each with their own door. These doors are controlled with a joystick, making it easy to aim the flow of air. Output for both the X3 and Z3 is 8,500 CFM at 165 MPH.
The drive system uses twin Hydrogear IZT transaxles operated using a quad control handle: the levers that control wheel speed are surrounded by a pair of fixed bars, giving the operator several hand position options. The parking brake is self-activating, letting you release the controls and step off of the platform to move branches and other debris.
The operator stands on an isolated platform and can lean against a large knee pad. This provides an excellent view of the area surrounding the blower and makes it easy to ride when climbing steep inclines. A torsion bar front suspension helps absorb bumps while keeping the chutes aimed close to the ground.
The Hurricane comes with a 10-gallon fuel tank for all-day operation. Built-in tie downs make the blower easy to transport. An LED light comes standard for night work.
The overall footprint of these blowers isn't much larger than a walk-behind blower. Combined with their zero turning radius, they're a compelling alternative to tractor and mower-powered blowers, offering far better maneuverability.
Models
Billy Goat offers two versions of the Hurricane blower.
X3: A 23 HP 627cc Vanguard V-twin spins the impeller to a top speed of 3,200 RPM, and it can go up to 9 mph.
Z3: A 33 HP 993cc Vanguard Big Block engine gives this blower the same air performance as the X3, but the engine only needs to operate at 2,600 RPM, greatly reducing noise. The added power lets this blower reach a speed of 11 mph.
How Do They Compare to Force Blowers?
All of Billy Goat's walk-behind blowers output air at over 200 mph, giving them more lifting power than these riding blowers. This makes Force blowers a better choice for pulling up wet, compacted leaves. However, the F18, Billy Goat's most powerful walk-behind, only moves 2,900 CFM, and they have only one vent for air. The Hurricane's multiple vents allow it to clear areas without backtracking, and its high air output and high operating speed let it clear areas far faster than any Force blower.
Where Can I Get Parts for These New Blowers?
New or old, you can get everything you need for your Billy Goat from www.billygoatparts.com. We're not just an authorized Billy Goat dealer, we're also a dealer for Briggs & Stratton, so we're able to ship replacements for everything on these new blowers straight to your door whether you live in the U.S. or Canada. Ordering is easy: just select your model and serial number, and our site will show you parts listings, diagrams, and information direct from the manufacturer. That means you can be sure you're always ordering the right parts for your machine.