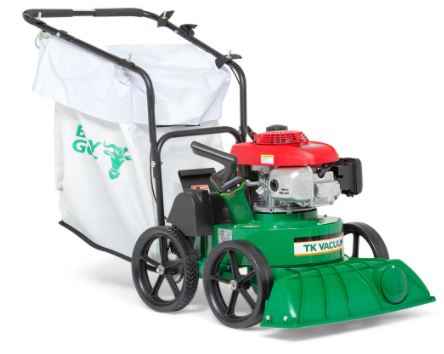 Leaf blowers are a pain because all they do is move lawn debris around. Sweepers pick up debris, but they're too big to fit in tight spaces. However, with a lawn vacuum, you can pick up debris almost anywhere, and you can break up leaves into small pieces. That means easier cleanup and less money spent on leaf disposal. If you're a homeowner, Billy Goat's TKV Series may be the solution you're looking for. Though it is aimed at consumers, this outdoor vacuum has the features that make it popular with landscapers and contractors. 
How It Works
This vacuum uses a Honda GSV190, a hybrid of their GC and GX engines. Like their residential engines, it has an overhead valve head that improves performance and offers better cooling. It also has components borrowed from its commercial line, including a cast-iron cylinder liner and an advanced air filtration system to increase service life. 
The engine spins a 5-blade impeller. This pulls air through the TKV's 27-inch-wide nozzle at a rate of up to 1,700 cubic feet per minute. Serrations at the end of each impeller blade chop up lawn debris as they pass through, compacting them up to 12:1. Since lawn debris pickup is charged by the bag, this saves you a significant amount of money on cleanup.
The TKV also has a chipper chute that handles branches up to two inches thick. A set of blades inside the chute slice the wood into small pieces before being passed to the impeller. The handle has a storage bracket, so you can keep a lopper on hand to trim branches before feeding them into the chute. 
Debris falls into a 40-gallon bag lined with a dust skirt. There's a release flap on the rear of the bag to dump its contents. A simple retention system with pre-sized straps makes it easy to remove the bag for cleaning. 
The TKV weighs 135 lbs., and measures 62 inches long and 26.75 inches wide. This is about the same size and weight as a walk-behind mower.
Accessories
While this vacuum is great for most users out of the box, you can upgrade it to fit your needs.
When you buy this vacuum, you have the option of getting a single-speed gearbox to help push the vacuum up hills. 
Billy Goat offers a hose kit attachment for the opening on the front of the nozzle. This lets you reach in between bushes and around landscaping obstacles for cleanup. 
If you live in an area with sandy soil, you would know how much damage loose dirt can do to equipment. Fortunately, Billy Goat makes a liner sleeve for the impeller chamber, stopping damage from abrasion. In areas with dry, fine soil, you can upgrade to a felt bag, which helps trap fine dust particles.
Is It Right for My Rental Business?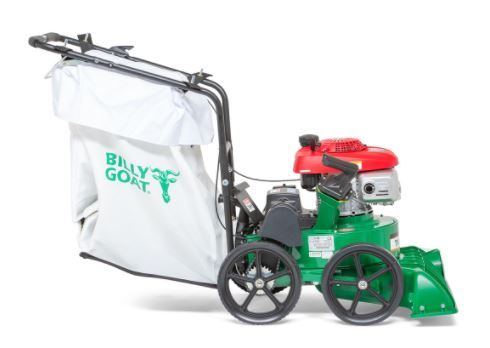 Like other Billy Goat products, this vacuum was built with rental businesses in mind. That means you get features like a quick start guide that can be accessed by scanning a QR code next to the controls. This helps your customers get up to speed on proper machine usage and maintenance, and helps avoid mistakes that can damage equipment.
If you use the TKV650SPH for your rental business, Honda will warranty the engine for one year, while Billy Goat guarantees the rest of the machine for one year, protecting your investment.
Need Parts for Your Vacuum?
Billy Goat Parts has everything you need for your equipment, including engine and transmission parts. That's because we're a certified dealer for Billy Goat, Honda, and more. Finding parts is easy: we have sections for commonly ordered parts, like impellers and wheels. We also have a search engine that can show you parts, diagrams, and descriptions specific to your model. This is so you can see exactly what you're buying. Best of all, we can ship your order to any address in the U.S. or Canada. When you need parts or accessories for your Billy Goat, visit us online at www.billygoatparts.com.