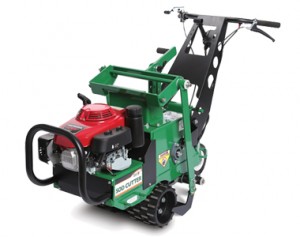 Are you looking to expand your rental business? Do you want to offer lawn care and groundskeeping equipment that's reliable and easy to use? Billy Goat may be exactly what you're looking for. From cement cleanup to seeding, they build quality machines that are simple to learn and designed to keep operating costs low.
What Does Billy Goat Offer My Customers?
No matter who you supplying equipment to, Billy Goat makes something to fit their needs.
– While everything Billy Goat makes is commercial grade, they offer a range of sizes to fit the needs of users ranging from homeowners to municipal contractors.
– Rent construction equipment? The QV Quietvac can be used for cement cleanup when properly equipped, while their other vacuums make quick work out of trash and debris pickup.
– Billy Goat's reciprocating aerators perform better than drum aerators and are easier to turn.
– The new AGR1300H landscape auger is small enough to fit in a 6-foot truck bed, yet it offers the performance of a PTO-powered auger. Once deployed, its Z-link support drops the auger straight down, eliminating the constant angle adjustments of similar augers.
– Their line of walk-behind blowers offer unparalleled performance thanks to their composite construction and optional hydrostatic drive.
– The new line of stand-on blowers offer maximum power and cleanup speed by delivering the power of a large tractor attachment in a ZTR package.
– Billy Goat's sod cutters and brushcutters are perfect for tough jobs that renters only need to do once every few years.
How Hard is it for Renters to Learn New Equipment?
Thanks to the new Text to Video program, it couldn't be easier. Billy Goat started rolling out T2V last year, adding information to the handles of their equipment. This includes a quick start guide and instructions on how to access a 90-second video explaining the operation of the machine.
That means fewer calls asking for help and fewer mistakes that can damage equipment.
Clear labeling around the machine also help guide new users. For example, overseeders have labeling on the seed hopper that explains how to set up the machine to get the right drop rate.
How Long are Billy Goat Machines Warrantied?
All walk-behind blowers except the F6 are guaranteed for two years of rental use. Everything else Billy Goat offers is warrantied for one year of rental use.
Briggs & Stratton classifies rentals as commercial use. Under this policy, Vanguard engines are guaranteed for three years. B&S engines with the Dura Bore cast iron cylinder sleeve are guaranteed for one year. This includes the engines used in smaller equipment like the F601X leaf blower.
Honda Engines has a similar warranty policy. They guarantee GC-Series engines for three months, GXV140 and 160 engines for 24 months, and all other GX-Series engines used by Billy Goat for 36 months.
How Hard are these Machines to Maintain?
Billy Goat makes a point of building their equipment so that they can be maintained and repaired using common hand tools. That means you can do most of the work in-house, reducing downtime and costs. Manuals include parts breakdowns, so you can see exactly what you're working on and what you need to replace.
Parts are also chosen to reduce maintenance. All hydrostatic transmissions used in Billy Goat equipment are sealed for life, and direct drive power is used wherever possible to cut down on drive belts and chains. On some equipment, you can upgrade to puncture-resistant tires, eliminating one more point of failure.
We also have articles on this blog with tips for maintenance and troubleshooting for everything Billy Goat makes based on both factory information and customer feedback. Our site also integrates factory parts diagrams into the search engine, making it easy to order exactly what you need.
Where Can I Get Parts for My Equipment?
More downtime means less money you can make on your equipment. If you need replacement parts for your equipment fast, go to www.billygoatparts.com. We're an authorized dealer for Billy Goat as well as their manufacturing partners including Honda Engines and Briggs & Stratton. That means you can get everything for your equipment from one source. We have a massive parts warehouse, so we can ship what you need shortly after you order. We can have your order delivered to any address in the United States or Canada.