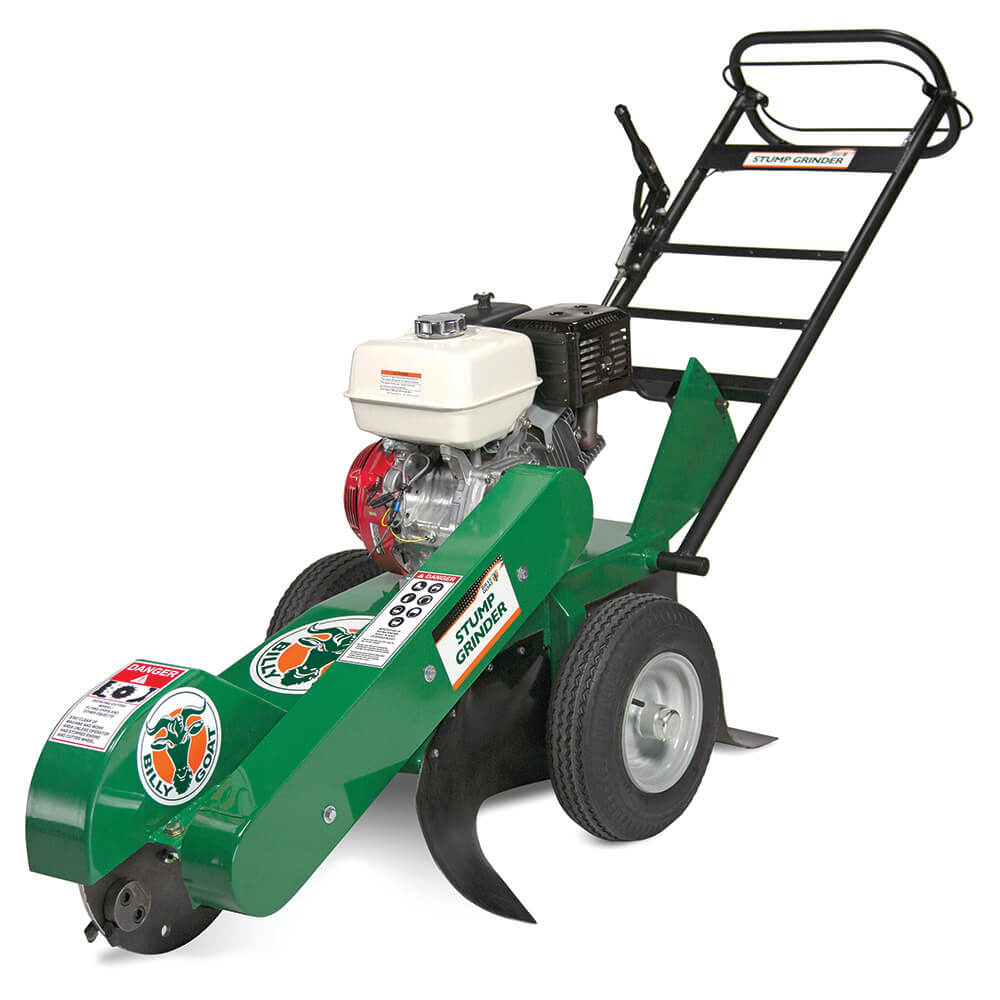 In the past few years, Billy Goat has expanded their lineup to cover more landscaping jobs. Recent additions include a line of ride-on leaf blowers, a new walk-behind blower, and an auger. Now, they're taking on stump grinding with the new SG1300H. As with everything else they make, this stump grinder has features that make it easier to use than anything else on the market.
Cutting Power
The SG1300H comes with a Honda GX390 making 13 HP. If you own any commercial lawn equipment, you're probably familiar with the GX Series and its reputation for rock solid reliability. This engine drive a 15 ½ inch, 35 lb. cutting wheel fitted with 8 carbide teeth designed to slice through hard wood. Billy Goat also offers a green tooth kit for slicing through soft growth.
Increased Leverage and Deeper Cuts
The grinder has an arm with a long belt drive that increases leverage and extends belt life. Billy Goat pairs this with a long dual handle that has a bale on both ends. This adds even more leverage, and gives the operator a choice of hand positions while engaging the drive system. The handle has 5 height positions, so it fits most users. There's also a foot mount on the base of the grinder that can be used to apply extra pressure.
A drum brake on the right wheel keeps the grinder from rolling, while still allowing the machine to pivot left and right. This makes it easy to sweep back and forth across a stump. The brake handle is just below the bail, putting it within reach of the operator.
The drive system angles down, giving the SG1300H a much longer reach than competing models. it can cut up to 24 inches above the grade down to 16 inches below. Most of Billy Goat's competitors struggle to cut more than 9 inches deep. Rubber guards around the sides and back of the machine deflect chips away from the operator's position.
At 330 lbs, this is one of the heaviest models in this segment. This helps the SG1300H resist kickback, and, thanks to its 8 inch pneumatic turf tires, you won't notice the weight when you roll it around.
The Perfect Rental Stump Grinder
The SG1300H is a great choice for rental equipment. Like other Billy Goat models, this machine has clearly written instructions on the handle, along with a number users can text to get the full owner's manual.
Get Parts and Accessories For Your Billy Goat
Do you need something for your Billy Goat equipment? Billy Goat Parts is an authorized dealer for Billy Goat and Honda Engines, so we carry everything you need. Our site can find parts that fit your model, and we have sections for commonly ordered parts, like air filters. Visit us online at www.billygoatparts.com. We can ship your order to any address in the United States or Canada.
Adding a Hose Kit to Your Lawn Vacuum
Billy Goat's lawn vacuums make quick work of leaves and other lawn debris in open spaces. However, if you want a perfect lawn, there's always more debris to remove from bushes, fences and landscaping features. By adding a hose to your LB or TKV Series vacuum, you can clean up these areas as easily as you clean up the rest of your lawn. Here's how you can install a hose kit on your Billy Goat vacuum.