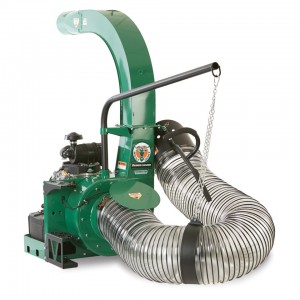 Billy Goat may be a leader in the debris loader market, but they're not about to rest on their laurels. The company recently released 5 new "NextGen" models, adding new technology that makes them more durable and less prone to breakdowns. Like their predecessors, they still deliver excellent debris compaction, a choice of powerful industrial engines, and the flexibility of Billy Goat's CustomFit mounting system.
What's New?
The exhaust chute uses a new design, adding a 10 gauge steel square section with a reinforced backplate. This gives the chute a longer service light without adding extra weight, so it isn't any harder to position than the previous tube chute. The end of the chute is still round, so it's compatible with extension attachments.
Inside the impeller housing, you'll find a new poly housing liner. This liner is just as durable as the quarter-inch steel liner used in earlier models. However, if it somehow breaks loose of its bolts, it won't jam the impeller and bend the engine shaft. It mounts to the housing walls using bolts that are not countersunk. This means when it's time to replace the liner, you won't have to dig out debris to reach the bolt heads.
A lot of things haven't changed with these new models. You still get Billy Goat's plate steel Piranha Blade impeller. It has serrated edges that chop up leaves and debris, reducing their mass up to 12:1 to fit more into each load. They're also compatible with Billy Goat's CustomFit system. This accessory line makes it easy to mount loaders to your tailgate, stake body bed, hitch receiver or trailer. You also have the option of bolting these loaders directly to flat surfaces using their built-in skid mounts.
The NextGen line includes updated versions of the DL13 entry-level loader, DL14, and 18 contractor loaders, and DL 29 and 37 Contractor/Municipal loaders.
Next Gen DL1302H

This small unit is ideal for loading up small trucks. A 13 HP Honda GX Series engine drives a 14.25-inch impeller, generating up to 2,100 CFM of airflow.
Next Gen DL1402SE and DL1802

Aimed at the heard of the contractor and property manager market, both the DL14 and DL18 have a 16 inch impeller moving air at a rate of 3,700 CFM.
The DL14 comes with a 14 HP Subaru EX Series engine, while the DL18's 18 HP Vanguard V-Twin adds extra grunt to handle heavy debris. The DL1402SE and DL1802VE come with electric starters, while the DL1802V uses a recoil starter.
DL2901VE and DL3701VE
Aimed at the commercial and municipal markets, these debris loaders offer maximum capacity for big jobs. Both units use a 20-inch impeller.
The DL29's 29 HP Vanguard V-Twin can spin the impeller fast enough to reach a peak of 4,400 CFM. Step up to the DL37, and you'll get a 37 HP engine that helps the loader reach a peak output of 5,050 CFM. This engine comes equipped with electronic fuel injection, reducing fuel usage by up to 25% while making it easier to start in cold weather. Both models come standard with electric starters.
Accessories
Many of the accessories available for Billy Goats older loaders are compatible with this new lineup.
Need a little more reach for the exhaust chute? The flexible metallic hose kit uses a clear hose that makes it easy to find and remove clogs.
The chute extension uses the same square shape and thick wall construction as the new chutes. It adds 24 inches to the chute's height on the DL29 and 37, and 15 5/8 inches of height on other models.
A rake holder can be added to the DL2901VE and DL3701VE to carry tools. These loaders are also compatible with the exhaust deflector, which makes it easier to aim debris into truck beds and trailers.
Billy Goat's CustomFit system lets you choose the mounting system that works best with your truck and trailer setup. Small loaders can hang off of the tailgate using the hanger kit. The hitch receiver mount works with DL13, 14 and 18 loaders. A swing-away hitch can be added to either attachment, letting you move the loader out of the way for easy dumping. For stake beds, there's a swing-away mount that bolts onto the truck bed. Prefer towing? These loaders can be mounted to the highway legal CustomFit trailer.
New or Old, Get the Parts You Need for Your Billy Goat at Billy Goat Parts
Billygoatparts.com is a certified dealer for Billy Goat as well as Honda Engines, Vanguard, and Subaru Power. That means you can get equipment parts, engine parts, and accessories from one place. We have sections for commonly needed items like impeller parts, or you can use our search engine to find parts for your specific model. We can ship your order to any address in the U.S. or Canada.