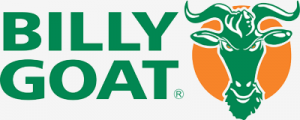 In 1969, two men opened a small factory to build a lawn vacuum. From there, this endeavor evolved into one of the top commercial equipment manufacturers, becoming a favorite with professional landscapers, municipal departments and rental companies. Here's a look back at Billy Goat's 50 years in the lawn care equipment business.
The Early Years: Entering a Burgeoning Specialty Market
The outdoor equipment industry was booming with innovation in the late 1960s. Companies were rolling out new devices that could speed up lawn care, creating the first versions of industry staples including ZTR mowers to string trimmers. Noticing this trend, Bill Coates and Mort Platt decided to get in on the action by opening a new division under Clipper Manufacturing. In 1969, Billy Goat started production of its first product, the KD-50 lawn vacuum.
This vacuum looks a lot like current models from its nozzle-mounted hose port and signature green paint. However, taking a closer look shows just how far lawn equipment technology has come in the past 50 years. This vacuum uses a 5 HP Briggs & Stratton L-head engine to spin a tiny impeller. It rolls on spoke wheels and uses all-metal construction. The result is something that was competitive in the 60s but is heavy, hard to roll and low on power compared to modern machines. It doesn't even have a wear plate, limiting the machine's service life.
In 1974, the business was relocated to Lee's Summit, MO, just outside Kansas City. Using the new space, the company added walk-behind blowers to their offerings. 12 years later, the company introduced its first truck loader, giving the company a complete lineup of leaf and lawn debris tools.
The 90s and 2000s: From Debris Removal to Renovation
After success building debris tools, Billy Goat shifted from a being specialty manufacturer to one that could provide a wide range of tools needed by professionals. In 1992, they introduced the Grazor for pavement crack cleaning. The first Outback brushcutter came out in 1995, and the Renovation line started with power rakes in 1997. By 2004, the line included aerators, sod cutters, and overseeders, letting buyers choose Billy Goat for most of their turf equipment.
The Coates family bought out Mort Platt's stake in 1993. Under their ownership, they expanded the plant and added Billy Goat University. Now a commonplace practice for manufacturers, this was one of the first manufacturer schools outside of the auto industry to offer product education to dealers, distributors, and customers.
The Modern Era: Acquisitions
In 2009, Billy Goat added more warehouse and manufacturing space. To expand their operations further, they started looking outside of the company.
Manufacturing specialist SourceOne tackled aerator turf damage issues by developing two unique solutions: cam-based reciprocating tines and swiveling tines stars. They sold equipment under the "PLUGR" brand for a while, but it wasn't a good fit for a company that specialized in engineering consulting. Billy Goat stepped in, acquired PLUGR in 2014. By pairing the designs with Billy Goat's own equipment expertise, the PLUGR became one of the most popular aerators on the market.
In 2015, Billy Goat was purchased by Briggs & Stratton. The acquisition is part of the manufacturer's push beyond the homeowner market, alongside the launch of their Vanguard engine line and high output commercial generators. While Billy Goat remains mostly independent, they gained the financial and engineering backing of the second largest small engine manufacturer in the world. When Briggs bought Hurricane in 2018, they folded the company into Billy Goat's operations. Their stand-on blowers are the perfect complement to Billy Goat's advanced composite walk-behind models.
Despite these acquisitions, in-house development remains an important part of the company. Models continue to be updated with new technologies like composite construction and laser sintering. In 2019, Billy Goat introduced the first dedicated self-propelled post-hole auger on the market. Today, Billy Goat is the first or second most popular option in every equipment segment they're involved in.
When You Need Parts for Your Billy Goat, Come to Us
Billygoatparts.com is more than an online retailer. We're an authorized dealer for Billy Goat and their manufacturing partners, including Briggs & Stratton and Honda Engines. That means you can trust that you'll always receive genuine OEM parts. For easy ordering, our site has sections for commonly needed parts, like aerator tines and air filters. Need something more specific? Our search engine has built-in factory parts diagrams and descriptions, so you can see exactly what you're ordering. We also have online parts manuals for older models dating back to Billy Goat's first vacuums. We ship across the United States and Canada.