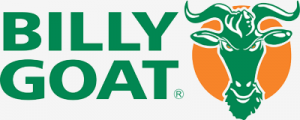 The great thing about buying lawn care products from Billy Goat is that the company has long had a policy of pairing each of its offerings with the right engine. Sometimes, that means that the company's lawn mowers come with numerous different engine models and brands under the hood, making it important for equipment owners to find out exactly which engine they're using before they head online to find replacement parts. Typically, Billy Goat releases equipment that uses one of four major engine brands. Each engine offers a slightly different design, slightly different power and dynamics, and dramatically different opportunities for maintenance and repair. Accordingly, parts are different between each company's engines and parts should be carefully researched prior to purchase.
The best way to ensure that the proper parts are secured for any repair or regular maintenance concern is to shop online using parts diagrams and model-specific parts lookup tools. It all starts with simply identifying which engine model is found in each piece of equipment. From there, a number of online resources can help.
The Manufacturers: Common Engines Paired with Billy Goat Equipment
Billy Goat uses engines from four major manufacturers, and each engine has its own perks. Engines like those produced by Honda or Briggs & Stratton are among the most durable and powerful, while competing options from Kohler and Subaru offer value-focused savings and quite a bit of power during everyday tasks. Each engine pairs perfectly with a different type of mower, aerator, seeder, or other landscaping equipment option, but the diverse number of engines used can make it hard for equipment owners to buy the right replacement parts.
That's where online Billy Goat parts retailers come in. With a number of online tools for Billy Goat equipment owners, these websites make it easy to find the right parts for each engine manufacturer and specific engine model. A number of tools even help first-time parts buyers find exactly what they need with minimal confusion and plenty of step-by-step guidance throughout the process.
Parts for Beginners: Using the Online Parts Diagram to Find OEM Replacements
The best way to find parts for any of the four most common engines used by Billy Goat is simply to use an online parts diagram tool that sorts by engine type, engine manufacturer, and the specific model number of each engine. This can be done using two distinct features of an online parts diagram. The first, designed for those who are new to power equipment or replacement parts, is labeled "Find Parts By Model." Using a series of drop-down boxes, users can easily narrow the available OEM parts for their specific engine by using a series of filters.
The first box simply specifies the engine's original manufacturer, while the second drop-down menu allows users to filter parts by the specific series of the engine. Users simply select the range of their engine's series and continually narrow down the eligible engines until they've selected the exact model found in their Billy Goat landscaping equipment.
With the right engine selected, it's easy to select the specific parts needed for replacement. Once the specific part has been selected, the parts diagram will return exact OEM matches that will seamlessly fix or enhance any aspect of the engine's normal operation.
Quick Part Search: The Advanced User's Way of Finding Parts
For advanced Billy Goat equipment owners who are already familiar with their engine manufacturer and model, finding parts requires even less work. Instead of drilling down through a series of drop-down menu filters, it's possible to simply select the engine manufacturer and then enter the appropriate engine model number and part number. The form will instantly return the exact part that the user requires, allowing for an extremely easy purchasing process that will see the proper OEM part ready for shipping and installation in record time.
Most Popular Parts: A Quick Way to Peruse the Most Common Repairs and Replacements
Finally, many online retailers that work with Billy Goat offer a great way to peruse the most common parts required for each engine manufacturer. Whether it's a repair manual, air and oil filters, or something a bit more advanced, these popular parts are listed in order of how frequently they're requested by customers in need.
These quick indexes of parts offer one of the best ways to quickly find the best replacement options for each manufacturer's most popular engine, and they eliminate the necessity of drilling down through different menu options to find the right parts for each customer concern.
Check Out the Diagrams and Parts Listings at BillyGoatParts.com
With years of experience serving users of Billy Goat equipment, BillyGoatParts.com has all of the parts and intuitive tools that users need to keep their engine working in top condition. The company's combination of beginner and advanced functionality, and plenty of great parts for all four major engine brands found in Billy Goat equipment, is perfect for a wide range of homeowners and amateur landscapers.