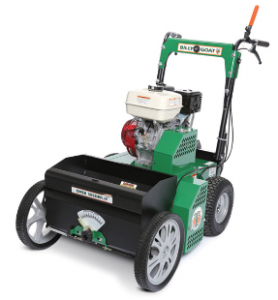 With fall underway, it's time to lay down cool season grasses to keep lawns looking lush. Whether you're a homeowner, professional landscaper or equipment renter, Billy Goat has an overseeder to help you get the job done.
OS552
Built for landscapers and rental customers, the OS500 series is lightweight and simple to operate. Billy Goat's Auto Drop system engages the seeder and the blades together, so it only lays down seed when the machine is being used. Instructions are printed on the lid of the seed box for setting drop rates, making it easy for owners and renters to lay down the right amount of seed. Its 25 lb. capacity is enough to seed ¼ to ½ an acre of bare soil or overseed about one acre of turf.
The wheels have large pneumatic tires and are mounted on ball bearings, reducing the shocks that reach the handle and making this machine easier to push. When it's time to store or transport this overseeder, the handle can be folded down without having to use tools or unscrew wing nuts. Maintenance is easy, too. The steel drive pulleys and belt are mounted on the side of the machine under a single steel guard, making them easy to access, and the depth adjustment is infinite to spread wear across the blades for a longer service life. Total reel width is 20 inches.
Unless you're seeding bare soil, the lawn needs to be dethatched to get maximum contact between the dirt and the seeds. Instead of buying a separate dethatcher, a spring tine reel can be added, letting you do every step of overseeding with one machine.
Billy Goat offers this overseeder with a choice of either a Briggs & Stratton Vanguard or Honda GX engine.
PR550
This model is listed as a power rake, but for all intents and purposes, it's an OS500 without the seed box. Kits are available to turn it into an overseeder or a dethatcher. Without these add-ons, this rake only weighs around 100 lbs. This makes it a great compliment to an overseeder, allowing landscapers to clear thatch ahead of seeding.
OS901
Need to cover a lot of ground with less effort? The OS900 series comes with a hydrostatic drive, increasing the amount of turf that can be seeded per hour while being comfortable enough to use all day long.
The OS 900 has been around a while, but new features make this model easier to use than before. This starts with a new blade design that lasts longer thanks to an improved coating process, and a new blade profile that reduces thatch pickup. Like the OS552, it has infinite height adjustment, which is now set using a foot-actuated adjuster for quick changes when transitioning between turf areas. The slicing reel is built into floating mounts for maximum soil contact on lawn contours. This reel is 22 inches wide, so letting the OS900 cut and seed a slightly wider area than the OS552 with each pass.
The agitator at the bottom of the 30 lb. seed box is driven by the front axle, keeping it separate from the drive system while removing the maintenance and slippage issues of belt and tire-on-tire drive systems. Like the OS500 series, it has an auto drop system that starts and stops with reel engagement. Dual belts increase drive efficiency and belt life.
The OS900 is currently available with a Honda GX or a Subaru EX engine. The Subaru version may be pulled from production soon as Subaru has shut down their small engine division, but parts and support have already been transferred to an outside company.
Warranty
Billy Goat covers their overseeders for one year of commercial use. Honda and Vanguard engines are covered by their manufacturers for three years, while Industrial Power Products guarantees the Subaru EX engine for 5 years.
Getting Parts and Accessories for Billy Goat Overseeders
Billygoatparts.com is an authorized dealer for Billy Goat as well as Honda Engines and Subaru Power, so we're able to carry everything you need to maintain or upgrade your overseeder. Select your model and serial number, and our site will show you parts compatible with your equipment listed with both factory descriptions and parts diagrams. We ship across the U.S. and Canada.