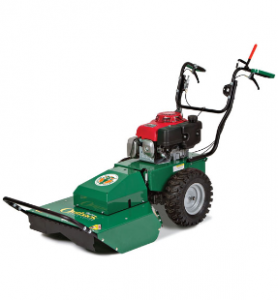 Fall is coming, and that means it's time to define landscaping, get rid of overgrown vegetation and clean out gutters before the first snows. Billy Goat has three brushcutter models that can get these jobs done quickly, but they each have their own advantages for certain tasks. Which one is right for you?
Deck Size and Design
Both the fixed and pivoting deck BC26's and the BC26HHEU use a 26-inch wide deck, so the cutting width limitations are mostly down to engine power and the thickness of the grass. Cutting height for the BC26 is fixed at 3.75 inches, letting it slice tall grass and weeds to a point that they can be handled by a mower. The BC26HHEU's deck can be adjusted to a height as low as 1.77 inches. In lighter growth, the cut can be low enough to eliminate the need to mow, although it's still a good idea to make a high pass first to make obstacles like rocks and branches visible.
A fixed deck is the most stable, making it a great choice for rough terrain, thick vegetation, and steep angles. A pivoting deck can follow the contours of the surface, so it leaves a cleaner finish. The BC26HHEU's deck is auto-leveling, providing the most even cut among these models.
Engine
Power output is nearly the same for the Honda and Briggs & Stratton engines, but the Honda engines have a lower center of gravity, letting it handle slopes up to 20 degrees versus 15 for the B&S. Billy Goat also offers the Honda with the option of electric start, and the motor is backed by a three-year warranty, while the Briggs & Stratton motor is covered for two years.
Drivetrain
The geared transmission in the BC26 has three speeds and reverse, and since the transmission and axle are a single unit, there aren't any joints or linkages that can get caught on vegetation.
The Tuff Torq transaxle in the BC26HHEU is hydrostatic, allowing full speed adjustment while keeping the engine at maximum throttle to maintain speed to power the cutting system. It also comes with what Billy Goat called "Enhanced Traction Control," which is essentially a limited slip differential. Normally, the wheels can spin at different rates for making turns, but if one wheel starts to slip, both axles lock for more grip. For even greater stability, the caster wheels can be locked in place to keep the brushcutter tracking straight.
Which Brushcutter is Right for Me?
If you want the ultimate in performance, the BC26HHEU is the way to go. Its features make it flexible enough to handle both steep angles and flat ground, while a self-propulsion system and the option of electric start make it easy to use.
Don't need all the features of the top-of-the-line Billy Goat? The pivoting deck BC26 is great for gentle slopes and flat areas, while the fixed deck model is the best choice if you need to regularly tackle gutters.
Opting for a Honda engine provides a better warranty and more stability, but if you know your brushcutter will only be used occasionally and you aren't as worried about steep surfaces, the Briggs & Stratton is a solid, inexpensive option.
Getting Parts for Your Billy Goat Brushcutter
Billygoatparts.com isn't just a Billy Goat dealer, we're also a dealer for Honda and Briggs & Stratton, so we can supply you with replacements for everything on your equipment from spark plugs to spindles, no matter where you are in the U.S. or Canada. Finding the right part is easy, too, thanks to our advanced search engine that has built-in factory parts diagrams and descriptions to help you identify what you need.