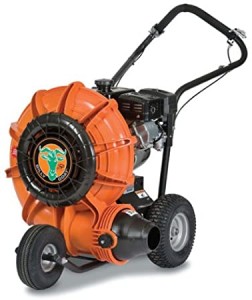 If you're a commercial landscaper, a maintenance contractor or you have a large property, you know what a pain it can be to clear debris with a backpack blower. Fortunately, Billy Goat has a solution: the F9 wheeled blower. Its commercial four-stroke engine and large composite impeller make quick work out of leaves, dust, and debris. This cuts down on job times and saves you money on maintenance and labor costs.
Good Performance is More than Engine Power
The engine drives a composite 17-inch fan and housing work together to create a smooth, low turbulence air chamber. This makes the F9 quieter and more efficient than metal housing blowers. Lower turbulence also means less stress on components, increasing the service life of the engine.
The fan has twice the blades you'll find on an equivalent metal blower, and it's cast in a single shot. That means that despite its complex shape, it's one solid piece that has no bolts that will loosen up with use. It also makes the F9 lighter than an equivalent metal blower, making it easier to push. As equipped from the factory, this debris blower weighs 143 lbs.
The offset handle places the operator directly in front of the nozzle, making it easy to see where the blower is moving air. The angle of the nozzle is controlled by Billy Goat's exclusive Aim N Shoot system. Using a lever on the padded handle, the nozzle can be moved up and down, quickly going from removing surface buildup to rolling piles together for disposal. This also allows the F9 to use a smaller opening than door control blowers. Air exits the four-inch discharge at just below 200 MPH, pushing out up to 1,700 cubic feet of air per minute. That's over 50% faster than an equivalent split door model.
Engine
Powering the F902H is Honda's GX270. There's a reason the GX Series is an option for nearly every piece of small engine equipment on the market: it has a reputation for bulletproof reliability. Features like a ball bearing-supported crankshaft and a heavy-duty balancing shaft reduce wear and vibrations, while Oil Alert keeps the engine from burning itself up when there's too little oil in the crankcase.
Billy Goat still lists the Subaru-powered F902S and F902SPH in their product catalog. However, both models were discontinued a few months after Subaru shut down their small engine division.
Accessories
Billy Goat offers several ways to upgrade the F9 to fit your operating conditions. If you're working in tight spaces, you can add a front caster wheel that makes for easier turns. Dealing with hills? The parking brake clamps down on one of the rear wheels to keep the blower from rolling. Hate dealing with flats? You can replace the front tire with one filled with foam. It never requires air.
Using the quick hold down kit, you can add a low profile mount to your trailer, locking down this blower in seconds for transport.
Warranty
Billy Goat guarantees the F9's impeller and housing for 5 years of use, while the rest of the blower is guaranteed for a year of commercial use or three years of residential use. Honda guarantees its GX-Series engines for three years of commercial use.
For Everything Billy Goat, Visit Billy Goat Parts
Want to add a parking brake or a castor wheel to your F9? Need to do some maintenance? Then you need www.billygoatparts.com. We're a certified dealer for Billy Goat and Honda Engines, which means we carry everything for your wheeled blower. Have a Subaru-powered model? We're still part of Industrial Power Products' dealer network, which means we carry parts for these discontinued engines.
We have sections for commonly ordered parts like spark plugs and air filters, as well as an advanced search engine. When you look up parts, you can see exactly what fits your equipment, as well as factory diagrams that let you see where those parts fit on your machine. We can ship your order to any address in the United States or Canada.