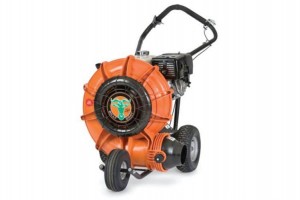 Backpack leaf blowers beat raking, but they leave a lot to be desired. They're noisy, heavy, and their two-stroke engines wear out quickly. With the Billy Goat F6 walk-behind blower, you don't have to make these compromises. It's small enough for residential use, tough enough for commercial use, and delivers two to three times more performance than the best backpack blowers.
Composite Construction: More than Just Weight Reduction
When comparing composites to metals, there's one obvious advantage: weight. When Billy Goat made the switch to composite components, they were able to produce blowers that weigh 30% less than their steel equivalents. However, the benefits don't end there.
Tolerances on steel blowers have to be big, leaving gaps between the housing and blades that create airflow-disrupting voids. There are also limits to how a metal fan can be shaped, further increasing turbulence. The result is less output per horsepower, more noise and more vibration stresses on the engine shaft.
By using composite construction, Billy Goat is able to make a tight-fitting impeller housing. Inside that housing, you'll find a fan with 16 curved blades, twice as many as an equivalent steel blower. Closed faces on the ends of those blades improve the seal between the impeller and the housing. The result: more power, less noise, and longer engine life. Durability is better, too. Since the impeller is cast as a single piece, there aren't any fasteners that can shake loose. That means there's one less thing you need to worry about for maintenance.
Getting Air Where You Need It
The F6 comes with Billy Goat's Aim N Shoot nozzle. Using a lever on the operator handle, you can move the nozzle up and down as you work. This lets you blow across the ground surface to peel off layers of compacted debris or send air upward to move leaf piles. If you work around buildings, you can add a 90-degree elbow to shoot air forward and pull debris away from walls.
By rotating the entire nozzle as a unit, Billy Goat was able to fit it with a small opening for increased velocity. As a result, blowing force is up to 50% higher than a comparable split door blower. Cross-shopping with a backpack blower? Between the bigger engine and high-performance impeller, you can expect jobs to take 40% less time.
What if you need to get into hard-to-reach spaces around bushes and landscape fencing? You can't push this blower into those areas, but you can reach them if you add a hose kit. It uses a 10-foot hose connected to a long metal nozzle, letting it get into places that would normally require a backpack or handheld blower.
Models and Engines
Billy Goat makes two versions of the F6. Both models offer the same impeller design and output, despite using different engines.
The 601X is powered by a 208cc Briggs & Stratton Professional engine. It's designed to be as easy to start as possible. In fact, the company guarantees the engine will start with the second pull for the duration of the warranty. It weighs just 83 lbs, about the same as a small walk-behind mower.
The 601V is powered by Briggs & Stratton's new Vanguard single-cylinder engine. It adds features like an air filtration system with cyclonic pre-filtering and a fuel system that is resistant to stale fuel. This gives it an edge over the Professional when it comes to durability. Choosing this engine increases the blower's weight to 89 lbs.
Warranty
Billy Goat guarantees the blade and housing for 5 years and the rest of the blower for one year of commercial use or three years of residential use. Briggs & Stratton guarantees both Professional Series and Vanguard engines for three years of commercial use.
Getting Parts and Accessories For The F6 Blower
Whether you have an F6, a Hurricane, or anything else from Billy Goat, you can get everything you need for it at Billy Goat Parts. As an authorized Billy Goat dealer, we carry the full line of replacement parts and accessories for these blowers. Need to work on your F6's engine? We're also a Briggs & Stratton and Vanguard dealer. Our site makes finding parts easy by offering sections for common replacement parts as well as a search engine that finds parts and factory diagrams specific to your equipment. To order, visit us at www.billygoatpart.com. We ship across the United States and Canada.