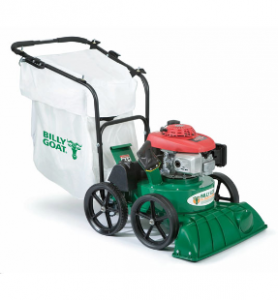 If you're looking for a debris vacuum, Billy Goat has you covered. They offer 13 models designed for everything from picking up leaves on narrow walkways to cleaning up after major construction projects. Which vacuum is right for you? Here's how you can pick the right model and accessories to fit your needs.
Leaf and Limb Disposal
All models can pick up leaves, but the KV and TKV Series are the only vacuums that come with an integrated chipper. Both models can handle branches up to two inches in diameter.
Getting in Hard-to-Reach Places
A hose kit can be added to any Billy Goat lawn or hard surface vacuum. These kits include mounting hardware to keep the hose out of the way when using the main nozzle.
The LB352 is the smallest vacuum in Billy Goat's lineup. At just 20 inches wide, this vacuum is perfect for clearing small spaces including sidewalks, gardens, patios and pool areas. Want something with more clearing power? The KV Series is wider, but it can be outfitted with front caster wheels for better maneuverability.
Electric Start
The MV601SPE is the sole model available with electric start.
Hard Surfaces
The QV Series has a nozzle designed specifically for hard surfaces.
The MV Series has a gobbler door that can be adjusted from the operator's position, making it easy to transition from turf to hard surfaces. The KV Series also does both paved surfaces and grass. However, nozzle adjustment requires stopping the vacuum and changing its wheel height.
High Dust Environments
The QV Quietvac's cyclonic filtration combined with the fine dust sock lets it filter out dust as small as 0.1 microns. This makes it safe to use for concrete dust removal as long as the area is dry.
An electrostatic dust sock is available for the MV Series. It isn't suitable for cement cleanup, but it does keep the operator from being coated in dust when working on dry dirt. Like the QV's dust sock, it's only effective when picking up dry debris. There's also a sand-resistant liner that can be fitted to the impeller chamber to save wear and tear on the machine.
Fast Debris Clearing
For all out vacuuming speed, the QV Quietvac and MV Multi-Surface vacuums have the highest air volumes and the widest vacuum nozzles at 33 inches and 29 inches respectively. If you need a residential model, take a look at the KV series with its 27-inch nozzle.
The TKV650SPH, MV601SPE, and MV650SPH have a single speed drive system. This helps the operator roll the vacuum up hills.
The QV Series is the only walk-behind vacuum on the market available with a hydrostatic drive. This drive system is built into the QV550HSP and QV900HSP, propelling them to a top speed of 3 mph. The adjustability of this drive lets the operator use it in all conditions, increasing speed over any surface.
Low Noise
The QV Quietvac's cyclonic filtration system isn't just effective, it helps tame the noise from the impeller. It makes 77 dBa of noise at full RPM, dropping down to 76 dBa at 2,800 RPM, the engine speed needed for typical use. This makes it the quietest vacuum in this segment of the market.
Debris Capacity
All models have a serrated impeller that breaks up debris, compacting them at a 12:1 ratio under ideal conditions. Expect to empty the bag more frequently when picking up wet debris.
LB Series: 28 gallons
QV Series: 36 gallons
KV, TKV and MV Series: 40 gallons
Billy Goat makes disposable liners for the MV series. These fit inside the reusable bag, so they're loaded as you use the vacuum. This saves a step when loading debris for disposal.
Get Everything You Need for Your Billy Goat Equipment
Is your Billy Goat equipment due for service? Need to add a hose kit or other accessories to your debris vacuum? Want to get an extra bag so you'll always have one ready to use while the other one is being cleaned?
If it's Billy Goat, you can order it from www.billygoatparts.com. We're an authorized dealer for Billy Goat and their partners including Honda Engines and Briggs & Stratton. That means you can get all the genuine parts and accessories for your equipment from one place. We have sections for common parts including engine parts, wheels, and accessories. You can also look up your model and compare parts listings with factory diagrams, making it easy to find the parts you need for your vacuum. We ship across the U.S. and Canada.