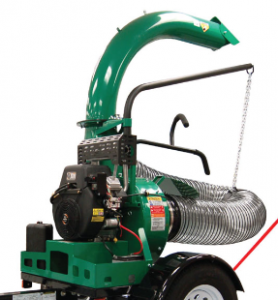 How do you get leaves and other lawn debris from the ground into your trailer? Billy Goat makes several debris loaders that can do the job, but they need to be in the right place to be effective. That's why they have the CustomFit system: these bolt-on accessories let you adapt your loader to fit a variety of operating locations from light pickups to stake bed trailers.
Tailgate Hanger
This hanger uses two arms that bolt into the box sections on your loader's base. Once installed, the arms are lowered over the tailgate, then two clamps are tightened down to keep the loader in place. This adjustability allows the loader to be mounted on almost any light duty truck.
Lifting the loader into place requires two people, and the loader itself has to be light enough that it won't damage the tailgate. For this reason, the hanger attachment is only compatible with Billy Goat's DL 12, 13 and 18 loaders.
Swing-Away Hitch
Cargo hitch racks are a great way to use a trailer hitch to expand cargo space on a truck or SUV. The swing-away hitch expands on this concept by making it easy to mount a debris loader while still having access to the truck bed. Billy Goat makes two versions of this hitch: one for a center-mounted hitch receiver, and one for stake body beds and trailers.
With the center-mounted hitch version, the loader is mounted on a swinging arm. When in use, the loader is directly behind the bed. When it's time to unload, the arm swings out and locks at either 90 or 180 degrees away from the hitch, leaving the bed clear for dumping. The stake mount version has the same three arm positions, but the insert for the receiver is offset, allowing a receiver to be mounted out of the way on the far right side of the bed.
The swing-away hitch is compatible with DL 12, 13, 14 and 18 debris loaders.
Skid Mounting
A skid mount is essentially a metal pallet. By using one with your debris loader, you can move it using a fork or pallet jack, letting you put it on the vehicle that needs to collect leaves. Billy Goat's skid mounts come with mounting holes, letting you permanently attach the loader to a surface, such as the front of a trailer. Skid mounts are available for all models.
CustomFit Trailer
This trailer is compatible with the DL 25 and 35, Billy Goat's largest loaders. It comes with 14-inch wheels and pre-wired lights, allowing it to be used on the highway, while a traffic cone holder and backup whip make it easy to set up when you're at the work site.
Reaching Your Bed or Trailer
If the stock discharge chute and intake hose don't work for your setup, there are accessories you can add to change their positions:
360 Rotational Kit – This swivel joint is hand adjustable, letting you aim the exhaust chute where you need it. This makes it a great addition to trailer and skid-mounted loaders where the loader may not always be in the same position relative to the bed or trailer.
Extension Kit – Need a little more reach to get debris into a tall truck bed or trailer? This two-foot long tube fits between the impeller opening and the stock chute, extending its reach. The extension cannot be used at the same time as the rotation kit.
Length Extension – Need a way to get debris into a bed or trailer from a long distance? A 5-foot extension can be added to increase the chute's reach, making it a perfect complement to the CustomFit trailer.
Discharge Hoses – There are two ways to extend the reach of the intake: replace the stock hose with a unit that extends 5 feet longer, or join two hoses together using a coupler.
Exhaust Deflector – The deflector covers the end of the chute, sending debris downward. Its angle can be adjusted to get debris exactly where you need it.
Set Up Your Debris Loader with Help from Billy Goat Parts
Billygoatparts.com is your source for everything Billy Goat. We're a certified dealer for them and their manufacturing partners so we can ship parts and accessories for everything on your equipment to any address in the U.S. and Canada. Not quite sure what you need? Our search system lets you narrow down results by model and serial number and shows parts diagrams and factory descriptions so you can find the part that will fit your loader.