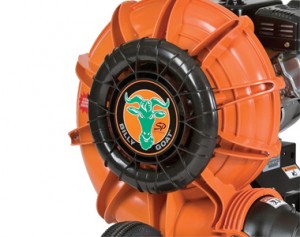 Is your equipment helping you get maximum profits? By choosing the right fall lawn care equipment, you can get jobs done faster, letting you do more work and keep your customers happy by ensuring leaf coverage won't hurt their lawns.
Moving Leaves
Backpack leaf blowers have been around since the early 1950s, and over the course of the following 30 years were adopted by professionals who needed a method for moving debris that didn't require water. When walk-behind blowers were introduced, they offered a massive increase in power, but their weight coupled with their inefficient housings and fans made them difficult and inefficient to use.
Today, modern composite construction allows shapes that produce efficient air flow, reducing power demands and noise while also significantly reducing the blower's overall weight. With models that have drive systems and electric start, Billy Goat's Force blowers are as simple to use as a small walk-behind mower. The benefits go well past operator comfort since this equipment can use large displacement four stroke engines, letting them do as much work as 7 backpack blowers. While the initial cost may be higher than a backpack blower, the cost savings in personnel and the ability to get more jobs in during the season's peak can greatly increase profits. For groundskeepers at large facilities, it can shave significant time off of clearing courtyards, parking lots, and other large spaces.
Picking Up Leaves in Confined Spaces
What if your business mostly centers around residential yards? A wheeled blower is impractical in small, fenced-in areas, but it's the perfect area to use a wheeled vacuum. This device can pick up leaves and other debris and bag them in a single pass. Since the impeller chops up leaves into small pieces as they pass through, they're compacted to allow more debris to be stored on board for less frequent bag emptying and lower disposal costs. The TKV vacuum also has an integrated chipper for slicing up small branches, cutting one more step out of the cleaning process. These professional quality models are also great for rental businesses and homeowners with large lawns.
Waste Disposal with Less Mess
A truck loader turns a messy two person job into a quick one person job, picking up and breaking up leaves in much the same way as a lawn vacuum, albeit at a much larger scale. Since debris loaders are stationary, Billy Goat is able to fit their models with larger motors and impellers, letting them reduce material at a 12:1 ratio. Granted, it won't be able to get the same reduction ratio on already broken leaves processed by a lawn vacuum, but it still makes it much easier to get bags of leaves into a truck or trailer for disposal.
Need a way to drop off yard waste without the expense of a dump truck? Dump inserts add a dump bed to the inside of a standard truck bed, keeping overall operating costs low. Using Billy Goat's Customfit system, the loader can be mounted on a swing away hitch. This lets it operate directly in front of the bed gate when loading, then can be moved away from the tailgate to let the bed tilt and dump its cargo. For an even simpler setup, the loader can be mounted on the tailgate of an unmodified truck and fitted with a swiveling chute. Once it's time to drop off the debris, the loader can be used to vacuum from the bed out to the disposal area. Larger operators can use the debris loader with their dump trucks by mounting the loader on a trailer or even fit it directly to a cargo trailer using a skid mount.
Need to Service Your Billy Goat Equipment? There's an Easier Way to Do That, Too.
Are you ready to put your fall equipment to work? Visit Billygoatparts.com for the parts you need to maintain and repair your blowers, vacuums, and loaders so you can be ready for the autumn rush. Our site has built-in factory diagrams and descriptions to help you find exactly what you need, and we can ship your parts to any location in the US. and Canada.