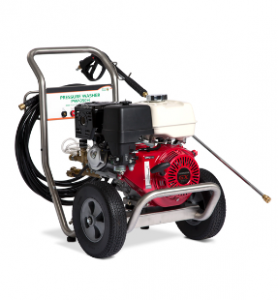 Temperatures are rising, and that means it's time to pull out your Billy Goat pressure washer and put it back to work. Here's what you need to do to get it ready for the season from setting up the engine to cleaning the antifreeze out of the pump.
Checking for Leaks
Before you move your pressure washer, look underneath it for signs of leaks from the engine. If you loaded the pump with antifreeze before storing, it's normal to have a drop or two of residue from escaped fluid. However, an empty pump indicates seal problems that may warrant a rebuild.
Pressure Washer Inspection
Inspect the high-pressure hose, detergent siphon hose, spray gun and detergent filter for damage. If there are cracks in the high-pressure hose or damage to the gun, they must be replaced before the pressure washer is used. Even minor weaknesses can let water escape, creating dangerous leaks.
Examine the inlet screen that fits over the port for the garden hose. If it has holes or signs of cracking, it needs to be replaced.
Any dust buildup should be wiped off of the pressure washer. Never use the pressure washer to clean the engine: the force can push water into the crankcase, where it will mix with the oil. This creates an emulsion that will not lubricate internal components, leading to premature damage.
Tire Pressure
Air will leak out of your pressure washer's tires over time, and after months sitting in storage, they're probably flat. Airing them up before moving your equipment will make the washer easier to roll and keep the bead from separating from the rim. The tires only need enough air to support the weight of the engine and pump, which is well below the 20 or so PSI maximum rating of the tires. In most cases, 5-8 psi is plenty to get your equipment rolling.
Engine Oil
If the oil wasn't changed before storage, it should be changed now. While the engine hasn't been used, prolonged storage can lead to the breakdown of even lightly used oil.
Pump Oil
Leakage and moisture contamination is possible during long-term storage. Check the pump to ensure the oil is clear and at the correct level.
Both CAT Pumps and Annovi Reverberi make oil specifically for their pumps to deliver maximum protection. Non-detergent SAE 30 oil can also be used in pumps from both manufacturers, but it will need to be changed more often as it will break down faster.
Antifreeze
If you stored your equipment correctly, you filled the pump with either "pump saver" antifreeze or RV antifreeze. This can be safely flushed out by operating the pressure washer. RV antifreeze can be safely disposed of in the sewer: operate your washer as usual while spraying into a bucket until the water coming out of the wand is clear. Once the water runs clear, pour the antifreeze collected in the bucket into a sink.
Pump saver antifreeze is biodegradable, but it's also poisonous and is not safe to flush into the sewer. Instead of spraying the antifreeze into a bucket, spray it over a wide area of turf to prevent it from pooling. This will keep animals from drinking the antifreeze before it has time to decompose. The ethylene glycol and other chemicals in the solution will break down in a few days.
If you're having trouble with pump performance after using RV antifreeze, you may want to use pump saver when storing your washer, even if it's just for a few days. This antifreeze includes chemicals that dissolve deposits that can keep the plungers from getting a good seal. Deposit issues are more likely if you live in an area with hard water.
Getting Parts for Your Billy Goat Pressure Washer
Billygoatparts.com is more than an online retailer: we're a certified dealer for Billy Goat, AR, Cat Pumps, Honda and Briggs & Stratton. This lets us offer OEM parts for everything on your Billy Goat equipment. Our site lets you search for parts based on your model, and you can see factory parts diagrams and descriptions so you can be sure you're ordering exactly what you need. We can ship your order to any address in the U.S. or Canada.