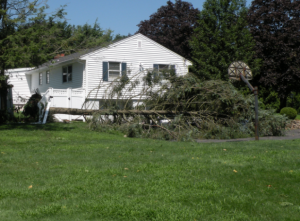 Even a minor severe thunderstorm can bring straight line winds and hail that can take out leaves and small branches, turning yards and parks into a big mess. Fortunately, the same Billy Goat equipment used for handling fall leaves can help you with every step of clean-up.
The Initial Inspection
Before you begin work, you need to take stock of the damage and address any safety issues:
Have downed power lines? Inform the electric company and stay out of the area.
Are there broken limbs still caught in the trees? These present a serious safety hazard and need to be removed before work can begin on the ground.
Are there any potentially hazardous object on the ground, buried beneath debris? An open door to a shed or a garage can mean tools and other materials may have been swept out. These items need to be recovered lest they become projectiles when moved by power equipment.
Moving the Bulk of Debris with a Blower
A walk-behind blower is a safe way to move most of the debris since the equipment won't make direct contact with any hidden obstacles. Ideally, the leaves and debris should be slightly moist to reduce dust, but they can still be moved when wet; it will just take more time. The wind should also be calm or blowing in the direction you want to move the debris.
Start by blowing out areas near buildings. Aiming the nozzle upwards to help deflect debris away from the wall. Once the debris is out in the open, it can be pushed onto a tarp or to the curb for loading. Work one direction, rolling the blower backward and forward and getting the leaves and debris lined up with the tarp or loading area. If there is excess dust being pushed by the blower, aim the nozzle up slightly. To push this strip into a smaller area for collecting, keep the nozzle at its lowest setting to keep from disturbing the pile that you're building.
Raking and the Second Inspection
A litter vacuum will be able to handle a rock or a can now and then, but it shouldn't be used to pick up gravel. Once the majority of the debris has been removed, rake in any escaped gravel and do another check for hidden obstacles that could pose a hazard.
Vacuuming Remaining Debris
If you need to move material while it's still wet, empty the bag when it's only ½ full instead of ¾ full. Since this moisture reduces dust, the bag can be filled several more times than usual before the bag needs to be cleaned to restore air flow. Keep the vacuum nozzle as low as possible without scraping the ground for maximum performance.
Using a TKV outdoor vacuum? Don't forget that it has an on-board wood chipper to help you dispose of small limbs.
Truck Loading
Using a truck loader saves a lot of shoveling, but it also has another benefit: the impeller breaks up the debris, making it more compact. This decreases the total mass of the yard waste, which can cut disposal costs significantly.
The nozzle is designed to withstand abrasion, but there should be enough suction that it can be kept a couple inches above the material being removed. Always shut down the engine before fixing jams; there are safety mechanisms in place to do this automatically, but it doesn't hurt to be extra cautious.
If your loader has a swiveling chute, it can be turned to blow outside the trailer or truck bed. This lets you use the loader to get the last bit of debris out when unloading.
Keep Your Equipment Ready When Storms Strike
When you need parts for your Billy Goat equipment, visit www.billygoatparts.com. We're a certified dealer for Billy Goat as well as every manufacturer that they partner with including Honda, Briggs & Stratton, Subaru, and even AR, so we carry everything you need for maintenance and repairs. Finding parts is simple thanks to a search system that has built-in factory diagrams and descriptions, and we can ship those parts anywhere in the U.S. and Canada.