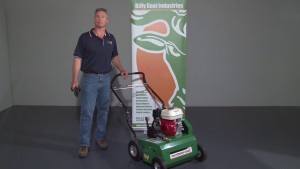 Removing thatch by hand is back-breaking work, and most dethatchers are too big and clumsy to reach every part of a heavily landscaped lawn. Fortunately, there's a machine that combines the best features of both methods. The Billy Goat PR550 Power Rake is small enough to tackle residential lawns full of trees and other obstacles, getting in places that normally have to be raked by hand. The heavy-duty flail pulls out thick thatch with ease, and Billy Goat offers accessories for lighter dethatching and overseeding. This makes it a great choice for home landscapers and rental businesses looking to offer a machine that's easy for their customers to transport and use.
High Performance in a Small Package
The 20-inch wide reel covered in heat-treated, tempered flails. As these flails scrape against the soil, they lift up and pull out thatch. The compact size of this machine makes it perfect for residential lawns, as it has no trouble moving around and between trees, fences, and sidewalks. The down sweep rotation of the flails propels the rake forward, making the PR550 self-propelled without needing a separate drive system.
A 10 gauge steel engine base and steel guards surrounding the flail don't just make this rake durable, it also makes it heavy relative to its size. This added weight quells vibrations, making it more comfortable to use. However, thanks to its compact size, this machine is about as heavy as a self-propelled walk-behind mower. This makes it possible to lift the PR550 into truck beds instead of having to trailer it to worksites. The steel wheels ride on roller bearings and have tall tires, making the machine easy to roll with or without the reel engaged.
Built for a Long Life and Easy Maintenance
Most power rakes this size are built for residential users, but you still get commercial quality components when you buy a Billy Goat. The drive system uses steel pulleys, which are accessed through a side panel held on by two bolts. This makes it easy to adjust the idler or replace the drive belt.
The reel rides on cast iron pillow block bearings with grease zerks. These serviceable bearings have a longer life than the plastic bearings found on most power rakes this size. Reel height adjustment is infinite, eliminating the wear spots of a fixed position adjuster. The flails have a maximum cut depth of 0.125 inches with an additional ½ inch of adjustment to compensate for blade wear.
When you're done using the PR550, you can lower the folding handle by moving a pair of steel loops.
Models
Billy Goat makes two versions of the PR550. The only difference between them is their engines.
The PR550 comes equipped with a 205 cc Vanguard 6.5 HP engine. This model weighs 160 lbs.
The PR550H comes with a Honda GX160 engine, making 5.5 horsepower. This model is slightly lighter than the PR550 at 158 lbs.
With either model, you can expect to cover 13,000 square feet, about 1/3 of an acre, per hour.
Accessories
Want to dethatch, but worry you might hit a rock or a sprinkler with the flails? The spring tine reel pulls up thatch without harming sprinkler heads and other objects embedded in the ground.
After dethatching, you can use the vertislicing reel to prepare the soil for overseeding. This reel cuts into the surface of your lawn to maximize seed to soil contact.
The overseeder kit comes with the vertislicing reel and a seed box, letting you use the PR550 as an overseeder. This lets you slice and seed in one pass, saving time when you plant new seed on your lawn. Swap the reel out, and you can go back to using the PR550 for dethatching.
Warranty
Briggs & Stratton Vanguard and Honda both guarantee their engines for three years of commercial or residential use. Like all Billy Goat products, the rest of the PR550 is guaranteed for one year of commercial or residential use.
Get the Most from Your Billy Goat Power Rake
Do you want to turn your PR550 into an overseeder? Is it due for some new flails? No matter what you need, Billy Goat Parts has it. We're an authorized dealer for Billy Goat, Vanguard and Honda Engines, so we carry OEM accessories and replacement parts for everything on your equipment. When you need to fix your Billy Goat, visit us at www.billygoatparts.com. We can ship your order to any address in the United States or Canada.