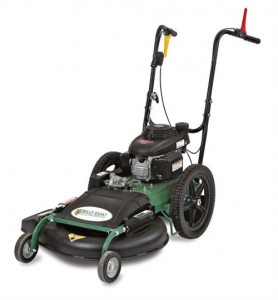 When homeowners need to handle particularly challenging landscaping conditions, whether it's tall weeds or thick brush, one company's name often comes to mind: Billy Goat. The company has made its name selling high-powered, specialized mowers that can handle a far more diverse set of plants and landscapes than the average riding mower or walk behind model, and today they offer some of the most useful and versatile equipment models on the market. For those homeowners looking to tackle more than a low-cut, grass lawn, there are some great Billy Goat options available.
Weed Control: The Billy Goat High Weed Mower
Tall weeds are certainly not easy to handle with a more conventional home lawn mower, and that's something Billy Goat seems to understand quite well. To address this issue, the company developed its High Weed Mower, able to handle even knee-high weeds. That's due in no small part to the mower's sizable, 24-inch mowing deck and its large rear wheels that don't balk at taller grass. The mower further features a three-speed transmission that can handle virtually any mowing conditions a homeowner can throw at it.
In addition to working perfectly in knee-high weeds, the High Weed Mower's large deck can easily handle traditional lawns. That makes it perfect for any homeowner that frequently deals with both a manicured lawn and longer weeds on a regular basis, and this convergence can result in a significant time and financial savings.
Finishing Touches: The Billy Goat HOMEPRO Finish Mower
On the opposite end of the spectrum from the company's High Weed Mower, Billy Goat's HOMEPRO Finish Mower is excellent at covering all of the finer details of a manicured lawn. The mower is specifically designed to create a short, uniform cut that is perfectly striped and uniquely finished. To get this job done, the HOMEPRO Finish Mower packs an impressive, 34-inch mowing deck that can cut mowing time in half when compared to regular lawn mowers without the company's finishing tools.
The HOMEPRO Finish Mower also features three forward speeds, a reverse option, and large tires that are perfect for mowing in a turf-like environment. Its dual-blade deck makes it perfect for virtually any type of cut or any unique terrain, and Billy Goat's compact design ensures that the HOMEPRO Finish Mower will be right at home in any garage or toolshed without sacrificing space for other landscaping equipment.
Finally, the HOMEPRO Finish Mower is easily adjustable to virtually any height, making it easy for homeowners to not only achieve their desired appearance, but also to mow at the right height for the unique type of grass that they've chosen to plant around the home.
Handling Brush: The Billy Goat Outback Brushcutter Series
Finally, for truly heavy-duty jobs that require more than a mere mower, Billy Goat has produced its line of Outback Brushcutters. The company's excellent design allows the Outback Brushcutter to treat brush as if it were just blades of grass around the home, easily conquering even thicker plants and stem that would cause problems for competing models. Because homeowners have varying degrees of brush to trim and remove, Billy Goat has worked on two separate models for today's buyers.
The BC24 is considered the entry-level Outback Brushcutter, with a robust set of features that is perfect for smaller real estate and slightly thinner brush cover. It derives its name from the inclusion of the BC24 spindle, which is among the most durable currently on the market. A unique rigid deck can actually resist pulls and uneven terrain during cutting, making the BC24 both more durable and safer than other options. With a high-powered engine and a three-speed transmission, homeowners will be able to handle a large number of scenarios around the home.
For those who want a bit more power, however, the company's BC26 model might be the better option. It includes an even better spindle, and packs a hydrostatic transaxle for better performance in wet or rugged conditions. A pivoting deck, unique to this model, makes it easy to achieve perfect cut quality every time, and it improves the speed of a brush-cutting job dramatically over the entry-level BC 24. With wider tires, a rubberized grip, and a rubberized rear deck, this model is built to handle the toughest trimming conditions around any home.
For Billy Goat Mowers and Parts, BillyGoatParts.com Has What Homeowners Need
Billy Goat mowers are known as some of the most dependable on the market, but they'll require regular maintenance and occasional repairs in order to extend their operable life. That's where BillyGoatParts.com comes in. The website has a large selection of OEM replacement parts for all Billy Goat mowers and other equipment, and offers an intuitive parts lookup tool that will help consumers find the right part for each model or maintenance requirement.